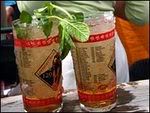 Yessiree, it's Derby Day--the running of the 132nd Kentucky Derby at beautiful Churchill Downs in Louisville--my hometown! And Derby Day means one thing: it's mint julep time again! The mint julep is a perfect warm weather drink, a delightful high-octane blend of bourbon, simple syrup, mint and crushed ice. Ahhhh. You'll see the ones to my left are served in official Derby commemorative glasses, a nice touch.
In the compound library we have at least a dozen different julep recipes. Matter of fact, I think we've got more versions of the mint julep than we do of
The Orange Blossom Special
and
In the Pines
put together. Most important:
always
use crushed ice,
not
cubes. Here's a basic recipe:
2 oz good bourbon (Wild Turkey 101 is our house bourbon here at the compound)
1 tbsp simple syrup (you can use bar syrup or make your own)
6-8 fresh mint leaves
Crushed ice
Sprig of mint for garnish
Splash of water (optional)
Place the mint leaves in a tall, frosted 12 oz glass (my bride says a Collins glass works well.) I usually tear up the leaves before I drop them in. Add the syrup and muddle with the mint in the bottom of the glass. (*One variation, which I like, has you add mint leaves to your simple syrup when you make the syrup, and then cool it in the refrigerator overnight--creating a mint syrup.) Add the bourbon and stir. Fill the glass with crushed ice and a splash of water if desired, then garnish with a sprig of fresh mint.
Enjoy!