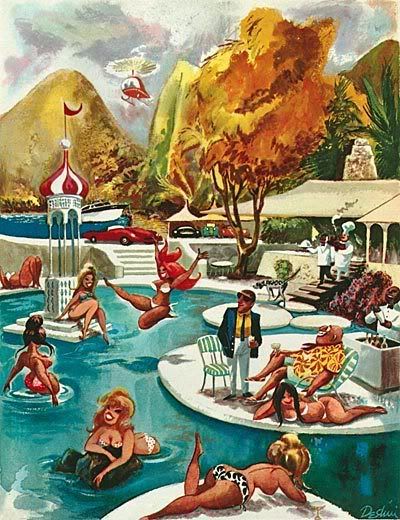 It occurs to me that maybe I should've titled this series "A tale of
three
compounds." What I'm talking about is the grappling we've done with what level of cool sophistication we want in our rural retreat, vs what amount of back-to-the-land rusticality.
This last picture reflects some over the top vision of the compound, a la early 60's Playboy magazine. The original caption reads:


"Well, I've always looked at it as sort of
stockpiling the American Dream!"
I got this courtesy of the
ASIFA Hollywood Animation Archive Project
blog. What an excellent website if you're a fan of old cartoons and classic pinup art.
Me and Miz Bubs are big fans of mid-century design. Our living room is decorated with atomic-style print curtains sewn by Miz Bubs. She got the fabric from
Repro Depot
. Our lamps sport retro shades from
Deadly Nightshades
. We have a vintage
1950's tiki bar in the corner
, yellow pleather with bamboo trim and a black formica top. (If you're wondering about those people in the last link, they're attempting to do the sign language for "bullshit." Long story.)
When we started looking at rural land we first thought of just moving into and fixing whatever old house was there. We've also thought about really going earth-friendly and
building a cob home
. What my daughter refers to as a hobbit house. Another thing that's really intrigued us is the idea of building a new, prefab modern house, like the ones offered by
Wee House
or
Rocio Romero
. Rocio Romero's model home is a few hours away in Missouri, and it's on our list of places to visit in the next year or so.
We can imagine inviting our swell urban sophisticate friends out to the compound to relax over a long weekend with martinis and Cole Porter music. Ring a ding ding.