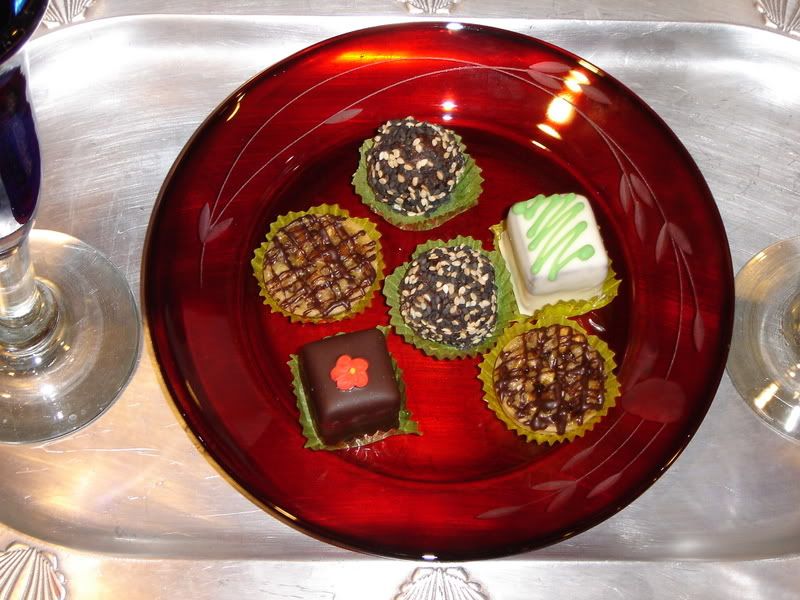 I have just had a very, very tasty finish to my meal.
Last Friday I ordered some sweets from
Uniquely Yours Pastry Shoppe
. I had run across her blog
Jintrinsique Unplugged
a while ago, and saw a few people talk about her baked goods. Well, let me tell you, they are delicious.
We ordered some
black pearl truffles
, and some pecan tassies. When the package arrived today, Jin graciously included a lagniappe: a sample of two petits four, which MizBubs immediately declared, upon tasting, to be the best petits four she'd ever had. So there.
The pecan tassies were buttery, flaky little pecan pie tarts that just melt away on the palate. They are pleasantly lighter and less dense than I'd pictured them when I ordered. The black pearl truffles were exceptional--both daughters went silent, eyes wide, and made contented little mewing sounds upon eating them. The contrast between the toasted sesame seeds and dark chocolate shell, and the soft rich center, is really wonderful. It dances on the tongue.
Ahh, the sweets of Christmas. Only a few more days to go. I'm gonna fatten up reeeaal good.