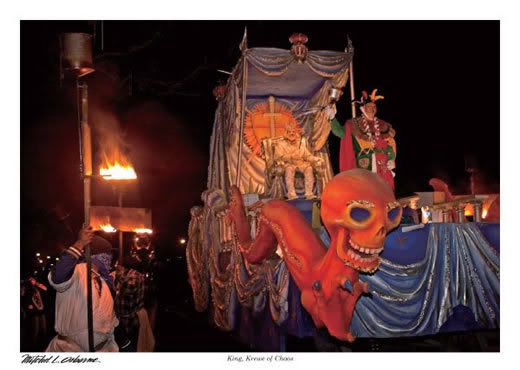 Happy Mardi Gras everyone. Hope y'all have an excellent day, full of good food and music. Wear a little purple, green or gold. Try and work a little dance step into your daily routine.
I really fell down on the job this year, and I don't have a lot of good visuals and music. I tried to find a digital version of James "Sugar Boy" Crawford's original recording of "Iko Iko" (originally known as "Jockamo".) It's a quintessential New Orleans song. Most people think it's much older than it really is--Crawford wrote it in 1954, and the Dixie Cups had a top 40 hit with it in 1965. You can listen to the Dixie Cups version
here
. I love the sound of it, especially when it was used to sinister effect in the movie
The Skeleton Key
.
This video features Dr. John, the Meters and Professor Longhair:
You can check out the Neville Brothers' version
here
. You can find some more ass-shakin' piano music video from Dr. John
here
(check out his boots!), and from Professor Longhair
here
.
Cook yourself something from
The Creole and Cajun Recipe Page
.
You can work on your faux New Orleans accent and vocabulary here:
How ta tawk rite
.
I've saved the best for last. Visit the
New Orleans Area Habitat for Humanity
website, and make a donation. Better still, try and head down there and do some
volunteer
work this spring or summer. The
St. Bernard Recovery Project
, having cleaned out and gutted over 2,000 homes, is preparing to rebuild.