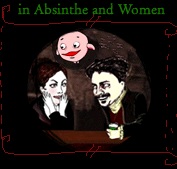 Strindberg and Helium
is back!
Strindberg and Helium
has been around for several years, but most of the site had been inaccessible for the past year or so because of some arrangement with Comedy Central. Now there's no longer any Comedy Central link on the page, and you can once again view all four films.
The films chronicle the interaction between grim Swedish playwright August Strindberg (here's a quote: "When they say Christ descended into Hell, they mean that he descended to earth, this penitentiary, this madhouse and morgue of a world") and a cheerful pink balloon sidekick named Helium.
I think my favorite is
Absinthe and Women
.