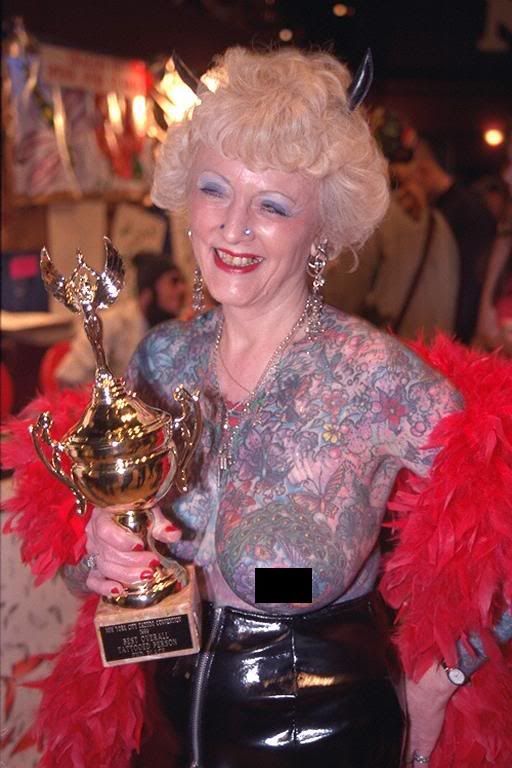 MizBubs frequently gets forwarded emails from a friend of hers at work. You know what I'm talking about--heartwarming stuff like cute pictures of
dogs that adopt fawns
, or of
Finnegan the squirrel pup
, or natural oddities like
frozen landscapes
, and jokes like
the elephant and the camel
.
Sometimes MizBubs forwards them on to me, and they're usually a welcome diversion for a few moments.
This morning was different.
This morning she opened this email:
Subject: [Fwd: [Fwd: FW: Fwd: FW: oh no.... mom went to another of Marcos' tatoo parties]]
The email had been forwarded more than 5 or 6 times, and it took a
lot
of scrolling. A lot of scrolling, to get to the woman you see pictured here. I have placed a discreet black square on this photo to make it family-friendly. Because seeing a bare, tattooed septuagenarian breast is only offensive if you can also see its pierced nipple, right?
This is one of the mildest pictures in the series. Granny appears in a variety of red and black vinyl outfits, looking like, in the words of my oldest daughter, "a ho'd-up Betty White." Toward the end of the series she displays a, uh,
unique
set of piercings.
You can see
the rest of the pictures here
. They are most definitely
not
safe for work.
Have fun!