"

...Oh well. Gotta go back to work on my corpse.

"
-Our eldest, to no one in particular after we finished dinner, on a special effect she's getting ready for a movie shoot tomorrow.


You can visit the website of the production she's working on by clicking on this here link: Massive Ego Productions. The working title is

The Landlord,

and our daughter is working as a makeup artist, assistant special effects makeup artist, and production assistant. She also has a bit part as a junkie who gets killed by a vampire.

She comes by it natural.

Years ago, when she was about 5, I was sacked out on the couch watching football, when I heard that tone of voice that causes any parent to sit bolt upright and wonder oh-my-God-what's-wrong? "Daddy...

daaaaaad

..." Just as I sat up on the couch, she came into the living room, terrified look in her eyes, her right hand held upright in front of her at eye level. Her left hand clutched her right forearm. "

Daaaaaaad

..."

It was then I noticed the long crimson streak of blood running down her forearm, her left hand apparently applying compression to stanch the flow of blood. Right about the moment I cleared the couch and came leaping over to her, she dropped her hand, broke out in a broad grin and began laughing. I stood there, stunned, and then I laughed with her.

I had bought her her fist tube of fake "vampire blood" about a week earlier. No mere impulsive prank, she had planned this out.

We are very proud of her.

Of course, I'd like to think she's learned a thing or two from her old man, amateurish as my efforts are compared to hers: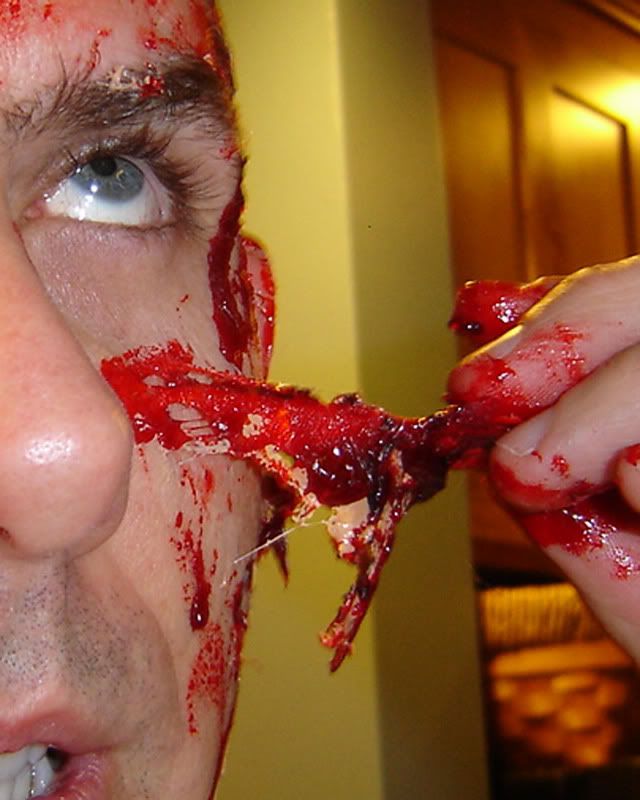 It's never far from Halloween around here.

PS: For a nominal fee, she'd be happy to make you up a slit throat prosthetic kit or help make you up gruesome for Halloween.