Listen up, dear readers--our eldest Nora is a semifinalist in the Fangoria Spooksmodel contest and she needs your help!

Nora is competing against quite a few professional models with some pretty slick photo spreads. A few of the girls (and I mean this with no disrespect whatsoever) look like budding alt-porn starlets, and they show a bit of skin. Nora, on the other hand, is the wholesome girl-next-door of horror. Proof that gore-soaked splatter movies are really good old-fashioned family fun. That's our girl. The top 13 contestants get to go to the finals in Los Angeles. And, as a maniacal stage father, I'm dying to take a trip to L.A.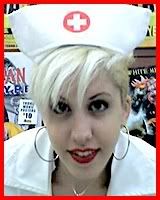 So start voting. Click on this link here, and scroll down until you see Nora in her evil nurse costume. This is a Chicago based blog, so I'd be disappointed in you all if you did anything other than try and vote as many times as possible, in any way possible. The contest ends on Sunday, March 29th, so you'll have plenty of opportunities to vote.



**NOTE: THE PRECEDING STATEMENT IS A JOKE AND IS IN NO WAY MEANT TO BE TAKEN AS AN ACTUAL ENTICEMENT TO CAST MULTIPLE VOTES IN AN EFFORT TO SWAY THE OUTCOME OF THIS COMPETITION. SPRAWLING RAMSHACKLE COMPOUND BELIEVES STRONGLY IN THE SANCTITY OF THE AMERICAN PRINCIPLE OF ONE PERSON, ONE VOTE. THANK YOU.



Here's a special offer--anyone who features Nora on their blog will be the happy recipient of free alcoholic drinks the next time I see you in person. Did you hear that? Promote Nora on your blog, and let Bubs help you get your drink on for free next time you see him.

Come on. I implore you. Join the Nora O'Sullivan Fangoria army. Put her on your blog. Facebook her. MySpace her. Tweet the bejeebus out of her. Join these proud bloggers who've gotten in on the ground floor of this once-in-a-lifetime pop culture moment:

Amy Guth
Katie Schwartz
Doctor Monkey Von Monkerstein
Becca (No Smoking In the Skull Cave)
Samurai Frog (Electronic Cerebrectomy)
Lisa Golden (That's Why)
Megan (All I Need Is Everything)
Mob (Dear Bastards)
Splotchy
Cormac Brown
Dena (Linkadelica)
Tengrain (Mock Paper Scissors)
DGuzman (...Other Dreams)
Randal Graves
Bubbles (Bubbles' new blog)
Jin (Jintrinsique)
Leah Jones (Leah in Chicago)
SHU-IZMZ
Padraig (Pat's Daily Grind)
Dr. Zaius

**special thanks to Dr. Zaius for the awesome blood red background on Nora's photo!
Cap'n Ergo Jinglebollocks (With a Twist of Lemon)
Jesus' General
Blue Gal
Alicia Morgan (Last Left Turn Before Hooterville)
Coaster Punchman
Lulu
GETkristiLOVE (Two Minutes in the Box)
Utah Savage
SkylersDad (Some days it's not worth chewing off the leather straps)
WaltoWorld
Doc (Social Zymurgy)

I'll leave you with my new favorite quote from Blue Gal: "Perky nurse is way more evil than bloody vampiress".

Vote you crazy bastards, vote.

_____________________