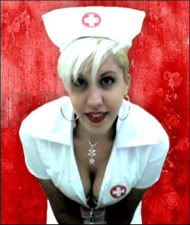 *UPDATED 1:15 PM CST:

I got a really nice email from Sparklit, the folks running the online polling:
"I am currently working on finding out why voters are having trouble voting on this poll. I have done several tests using 3 different email providers (yahoo, gmail and shaw) and I have been able to vote, and receive the email confirmation on all 3. I have also tried the confirmation links, and they have worked as well.

I am not sure as to what is causing the emails to not be received. They seem to be entering our mail queue system correctly, and being sent without problems. One thing that could help me however, would be for you to let me know which email providers specifically have been having problems receiving the confirmation email.

I am aware that a select few email providers do, sporadically it seems, block emails from Sparklit entirely, and do not even send them to the junk folder. However, I would like to test these email providers out one by one to see if I can find out why that may be happening."
So, if you had problems not getting your confirmation emails, please email and let me know who your email provider is and I'll forward that information to Sparklit.

Thank you, all of you, once again!

The problems continue, unfortunately. Nora only advanced by around 3 votes overnight, and I know of at least 8 people that tried voting for her.

Clearly something is wrong. I have found out that some confirmation emails are showing up a day or so late, and some are going into spam or junk folders. This is only happening in a small number of cases, however. Some people tried unsuccessfully to vote earlier, and as of this morning tried again and were able to vote.

Nora is near heartbroken--she's gotten angry messages posted on the IMDB message board from frustrated voters and people telling her, in so many words, "thanks for wasting my time--I'm not voting now."

In answer to your comments and emails, I'm sorry for the frustration you've experienced. I have sent several emails to Fangoria, Creation Entertainment and Sparklit and so far have not received a response. We'll see what happens in the next day or so. One friend of ours emailed Fangoria and got a response that was dismissive, bordering on douche-like, blaming our friend's spam filter. If this keeps up I'll shortly post the email addresses of everyone involved and encourage you all to contact them directly about the problem

Until then, all I can say is thank you for trying, and if your vote hasn't gone through, please keep trying, and keep checking your email and spam folders. Remember, when if you do get that elusive confirmation email, you have to click the enclosed link.

Thanks.

You can try voting here:

Fangoria Weekend of Horrors Spooksmodel Contest