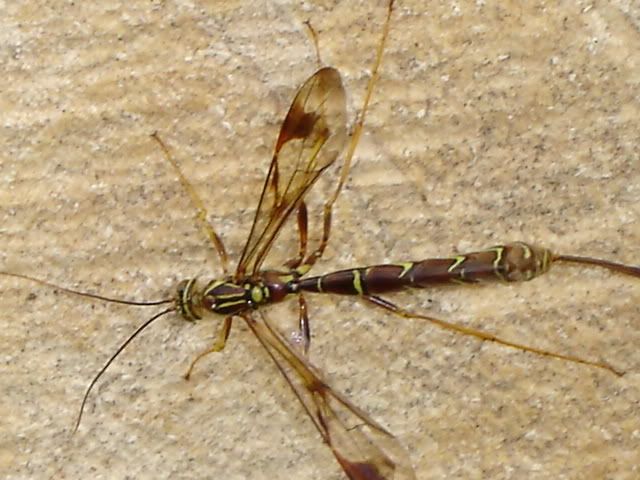 We saw a couple of these on one of the logs we cut for firewood. Our first guess was some type of parasitic wasp, but our hostess consulted an Audubon field guide and believes it's possibly a boreal mayfly. It was a couple inches long and freaky as anything.
Oh, camping was great. More on that tomorrow. Hope everyone had a good weekend.
Monday morning Update: After looking around a little something called"the Internets I think this bug is indeed a mayfly, possibly an "
isonychia bicolor
." I'm not sure though; while I found a bunch of pictures and descriptions, I didn't see any examples that were as vividly coloroed as this guy. About half the mayfly sites I found are geared more for fly fishermen than entomologists, which I found interesting. I also found this cool website:
What's That Bug?
Lots of cool bug pictures there. My favorite is the
Carnage Section: Squished, Smashed & Swatted
, where people send in pictures of bugs they've killed in their homes and ask WTB to identify the carcasses.