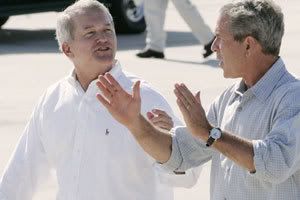 "As a matter of fact, I get a little nervous when I hear people say, well, I don't want to be measured. My attitude is, what are you trying to hide? How can you solve a problem until you measure the problem? How can you make sure a child is achieving what we all want if you don't measure early..."
--President George W. Bush, at an October 5th press conference. The above quote is taken directly from
the official White House web site
.
I found the photo
over here
at Salon.com, under this caption:
Maf54 (8:08:31 PM): Get a ruler and measure it for me