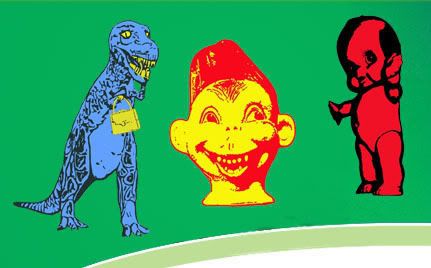 My eldest just told me about a nifty little device that she's installed on our browser. It's called the
StumbleUpon
button, and it's available if you use Firefox as your browser. You can set it with different keywords or interests, and it allows you to "stumble" onto various random sites. I like the setting under "Society" labeled "bizarre/oddities." If you're on a page that you enjoy, and you hit the Stumble Upon button, it bounces you to a similar page.
I found a tee shirt
bearing an image of a weird monkey-baby wearing a fez.
I found
a fun game you can play with refrigerator magnets
.
My favorite so far is
Mr. Picassohead
. Create your own masterpiece in the style of Picasso! You can see my new masterpiece, "Sad Elvis" by
clicking this link
.