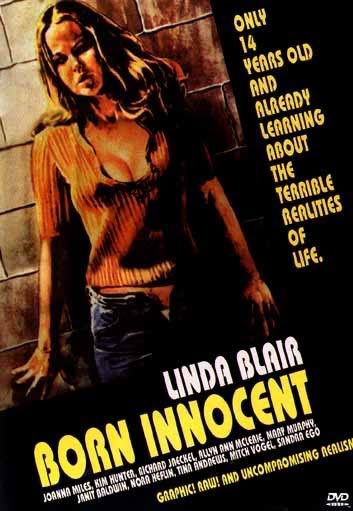 Coaster Punchman
and
Dale
brought back pleasant memories from my youth--watching made-for-TV movies. I mentioned
Trilogy of Terror
in the recent round of movie tag, and CP hooted his approval, describing it as an "awesome cheesy made-for-TV movie from the 70's." Dale followed up, calling my Karen Black and raising a Linda Blair, going all-in with
Born Innocent
.
This set me off on a fit of nostalgia. Looking back, I see now that my love of women in prison movies began with Linda Blair's bravura performance in
Born Innocent
. I started with Linda Blair, but soon moved on to the more sophisticated and pneumatic charms of Mary Woronov and Sybill Danning.
What other great made-for-TV experiences did I have...let's see:
Killdozer
-- A bunch of construction workers try and move a strange meteorite with a bulldozer. A strange blue light possesses the bulldozer, turning it into...KILLDOZER! Later on they defeat the demonic dozer by electrocuting it.
Crowhaven Farm
The Dark Secret of Harvest Home
Hope Lange and Bette Davis, respectively, get freaky in these two movies about the hidden menace of charming New England towns.
The Night Stalker
The Night Strangler
These two movies, starring Darren McGavin, were the pilots for the TV series Kolchak the Night Stalker.
The Night Stalker
was awesome because it set a vampire story in swanky 70's Las Vegas.
The Night Strangler
had the better cast--Wally Cox, Al Lewis and John Carradine.
Gargoyles
I remember watching this at the home of some of my parent's friends who we were visiting at the time. I thought I got the best deal in the world, being left alone in the den to watch this while the grownups socialized.
Sweet Hostage
Mental patient Martin Sheen "kidnaps" farm girl Linda Blair. He recites poetry to her and she learns valuable life lessons.
Now, really, if there were made-for-TV lifetime achievement awards for actors and actresses, I think Martin Sheen and Linda Blair would have to win
something
:
Martin Sheen
That Certain Summer
: Hal Holbrook's younger lover
Catholics
: Father Kinsella
The Story of Pretty Boy Floyd
: Title character
The Execution of Private Slovik
: Title character
Linda Blair
Born Innocent
: need I say more?
Sara T., Portrait of a Teenage Alcoholic
: Sarah Travis
Sweet Hostage
: Dorah Mae Withers
An honorable mention goes to
Hope Lange
. She cranked out some quality work in the 70's.
If I'm missing anyone, PLEASE let me know! This is just the stuff I could remember. I know there's more.