Many people visit this website for useful, up-to-date information on important topics such as freaks, animal attacks and tasty drink recipes. Tonight I'm adding a new service: a comprehensive guide to last minute shopping. And by last minute, I mean,
last
minute. Shortly before midnight on Christmas Eve. Heck, even laster-minute than that. Thanks to the corporate slavedrivers at Walgreens, you can do your last minute shopping on Christmas day even, on your way to whatever family function it is you're going to. This sign says it all: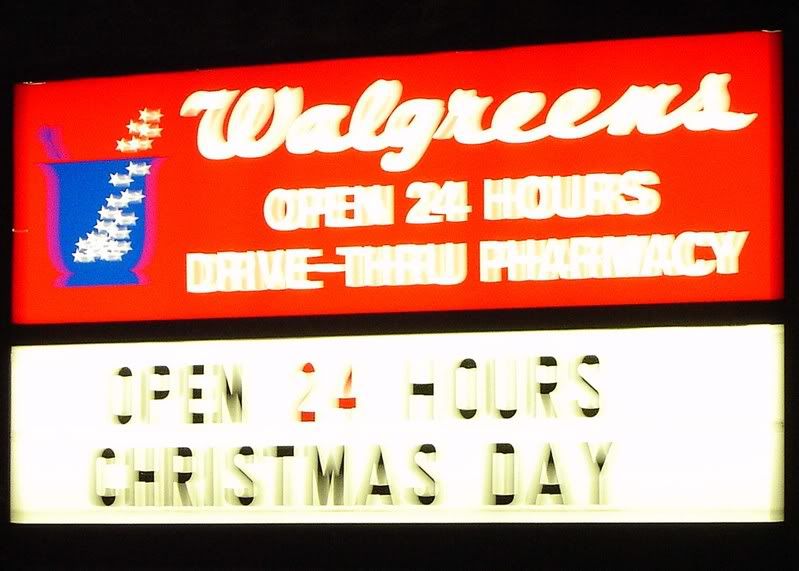 Yes, I know it's a little blurry. But that's just how it looks to your average Christmas Eve drunkard, roaming desperately through the northwest suburbs, chainsmoking and swearing to baby Jesus that next year he won't procrastinate like this.
I used to tell people I did all my Christmas shopping on December 23 and 24, at Walgreens. I don't know anyone whose heart isn't warmed by opening a hastily-wrapped gift to discover the newest
Chia novelty
or a tasty
Whitman Sampler
. But now Walgreens has so much more to offer. Here are a few ideas:
1) Check out the picture frame and photo album display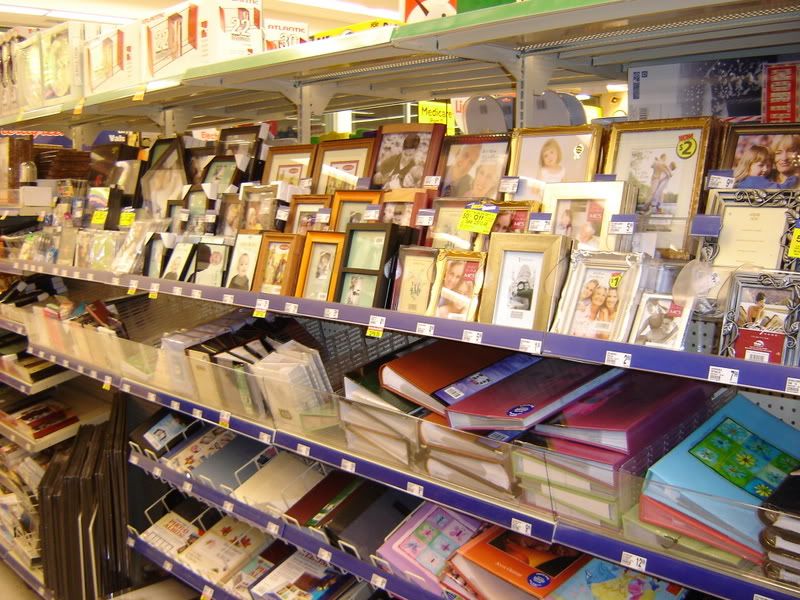 Grab a reasonably-priced frame and then wander over to the magazine section. Pick out a magazine with lots of nice pictures inside. Cut out the prettiest page and fit it into the frame. Everyone loves a beautiful piece of artwork!
2) Head for the toy aisle. The Walgreens closest to me added a second half of an aisle dedicated to inexpensive Chinese imports. They've got everything from toy soldiers to
Floam
to discontinued models of Barbie.
3) Buy an appliance!
You can get a staggering array of kitchen gadgets. Trust me, that special girl in your life will LOVE getting a brand new omlette maker! And she'll likely be even
more
impressed when she finds out you only paid $9.99 for it; chicks dig guys who are both thoughtful
and
thrifty.
Here are two useful tips for fitting in when you make your late night or early morning shopping run:
1) Smoke a lot of cigarettes right before you go inside. It seems like most of the people shopping at Walgreens after 10 pm on Christmas eve smell heavily of cigarette smoke. And maybe booze, but that might be aftershave. Or something.
2) Talk on a cell phone. Hitting the Walgreens can be a team effort. For every brave Joe prowling the aisles, there's a resilient, maybe even long-suffering, Jane at home whispering guidance into his ear.
Just don't try and buy any Club Man hair tonic for your brother. They're sold out.
Merry Christmas!