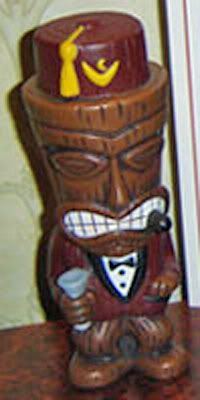 Snow...freezing cold...salt stained footwear...misery. It's TIKI TIME!
MizBubs and I can't take it any more. We need to get out and have couple a drinks. It's f*cking cold and awful, and we can't afford airfare to Las Vegas, New Orleans or Key West right now, so we gotta come up with a plan B. Nothing beats the winter blues and cabin fever like a few Mai Tai's, Zombies, Apu-Apu's or Suffering Bastards in the company of friends. Here's the deal:
MizBubs and I will be at the
Tiki Terrace
in Prospect Heights on Friday, February 23, from 6:30pm on. Here's the address:
1 S. Wolf Road, Prospect Heights

They have good drinks, and some live music starting around 7pm. And they got snacks! (awesome fresh taro chips) Come on, let's hang out for a while. We deserve it.
Hope we see a few of you there.