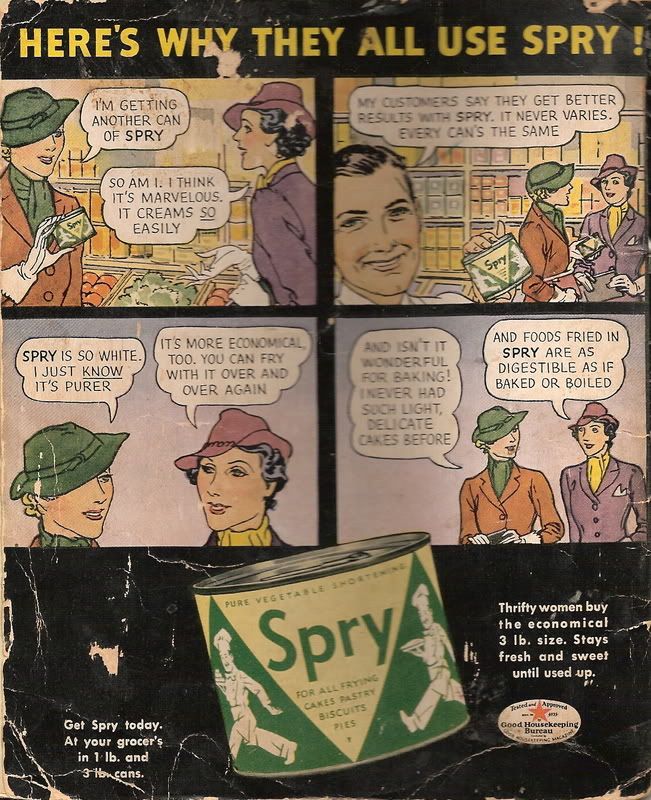 HERE'S WHY THEY ALL USE SPRY!
"It's marvelous. It creams so easily."
"Foods fried in Spry are as digestible as if baked or boiled."
"Spry is so white. I just
know
it's purer."
Valued readers like
Dino, aka Katy
, want to know about miracle product Spry Pure Vegetable Shortening. So, putting aside the fact that I get oddly and inappropriately excited when talking about fat and deep frying, here it is, in all its white whipped oleaginous glory.
Back at Thanksgiving we visited a few antique shops in Marion, Iowa, and I picked up a few old cookbooks. Not regular cookbooks, the little pamphlets put together by food companies, books like
Medley of Meat Recipes
from the American Meat Institute. Lucky me--I buy a few old pamphlets, and then, a few weeks later, I get some neat presents from my mother-in-law: some modern home magazines from the 50's and 60's, and a guide to building the "modern vacation home" from Popular Science. Anyway, one of the pamphlets I got was from Spry. Imagine a 48 page cookbook in which
every single recipe
calls for vegetable shortening. I love it.
Spry was a vegetable shortening
(like Crisco) made by Lever Brothers. They had a spokeswoman known as
Aunt Jenny
, who hawked the product from the 1930's through the 1950's. You can see for yourself why Spry is the superior shortening
here
and
here
.
There are plenty of good recipes in here, but my real find was the newspaper clipping hidden inside.
Click here for this delicious recipe for pineapple and carrot salad, circa 1940.

F*ck you Rachel Ray.