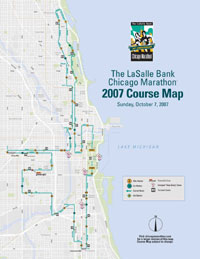 I am a lucky man. Not lucky in the sense of being one of those guys who always wins stuff in raffles or Las Vegas, but lucky in a bunch of ways that I think are more important. I'm lucky to have MizBubs and my beautiful children, and lucky to have a cool job that, in spite of all my bitching, I still love. I'm especially lucky in the sense that I've been in a lot of situations that could have gone really badly, and I've come out ok. Like yesterday's
Chicago Marathon
.
Be prepared folks, I'm about to bore the bejeebus out of you with a bunch of running talk.
Where do I start? Here, let me start by thanking people:
MizBubs, for deciding at the last minute to drive me downtown and sticking around. Just knowing she was down there ready to pick me up if I fell out helped keep me going. She also rode with me on a bunch of training runs, and put up with my bullshit.

My daughters, who rode bikes with me while I ran, and who got me wonderful foot care products from Lush.

Friends and family who monitored my progress and called or emailed to check up on me afterward.
The members of the Alpine Runners with whom I trained over the summer. Their company and advice went a long way toward getting me through healthy. Our training group leader, Julie, did a fine job of shepherding everyone through the program.

The Chicago Police Department and the Chicago Fire Department. Their response to yesterday's crisis was amazing. I saw so many cops assisting fallen runners, and countless firefighters and paramedics providing medical assistance. My brothers and sisters on the street yesterday should be very proud of themselves for their service.

The people of Chicago. My God, the people. I've always found Chicagoans to be some of the friendliest, most helpful folks of any big city I've ever visited. They proved me right yesterday. More on this later.
_____________________


I ran my first marathon in 1999. I had run, off and on, never seriously, for several years. I trained to run a 10 minute per mile pace, and after some knee problems (found out I had an arthritic knee at the age of 37) my doctor told me to stop running for a couple of weeks and put me on Vioxx for 10 days. On the day of the race I felt great; the toughest thing was staying warm while waiting for the start, with temperatures in the low 30's. I started out fine, but my knee got progressively stiffer and more swollen, and while I finished the race "running" it was a slow trot. My final time was 5:06.
In 2004 I did a better job with my training, and incorporated more rest into the program. Instead of training at 10 minutes, I did my training runs at an 11 minute per mile pace. The starting temperature was in the upper 40's or low 50's, and it was a beautiful day. I stayed almost exactly on my pace, and finished in 4:48.
Along the way I've run a few other races. My best half-marathon time was 2:02, a 9:21 pace for 13.1 miles. My best 5k time was 25:14, an 8:08 pace for 3.1 miles. So I'm not fast compared to real runners, but I'm not a walker either. I've run in hot weather before (my favorite being a 9 or 10 mile training run in New Orleans, at the end of which MizBubs saw me and the first words out of her mouth were "my God are you ok?") and I know how to stay hydrated. I've never cramped up or dropped out of a race for any reason.
Training for a marathon is an emotional roller coaster. Some days you have a great run and think you're ready for anything, and at other times a simple run causes you aches and fatigue that you can't explain. MizBubs has been saintly in her ability to put up with my bullshit, the mood swings from depressed "I'm a sad achy middle-aged man who probably shouldn't even be running" to "hot
DAMN
I'm good at this I ought to try running an ULTRA MARATHON." I had a mid-week training run earlier this year, what should have been a routine 8-miler through Busse Woods. About halfway through I heard a voice in my head say "fuck it, that's enough" and I started walking, without consciously deciding to do so. It was around 1 in the afternoon, hot and sunny. I walked for maybe 5 minutes and then finished the run, with a final pace of close to 11 minutes per mile. I felt totally rattled and demoralized when I finished. Contrast that with my last long training run, a 20 miler that I did 3 weeks ago. We finished it in 3:25, with an approximate pace of 10:15 per mile, and it felt
good
. No aches, no pains, no problems.
What I'm saying is, while I'm no athlete, I know how to train to my own limits. This year I trained at a 10:30 pace, and did some training runs at paces as fast as 9:45, and I had every expectation of running at least 15 or 20 minutes faster than in 2004, maybe even breaking the 4:30 mark to finish. Oh well.
_____________________



This brings us to the
2007 LaSalle Bank Chicago Marathon
, which I am now referring to as:
The 2007 LaSalle Bank Chicago Clusterfuck
I made the decision to run in January, and
I've written about the training and preparation a few times
since then. I was ready. Generally I love hot weather, the hotter the better, and while I knew it would slow me down I wasn't overly worried about it. I spent the week hydrating and eating well and resting. Without a doubt I felt better on Sunday morning than I have ever felt before any race I have ever run. Ever.
MizBubs dropped me off at the Chicago Hilton so I could meet some of my training buddies. Good race omens continued as I got to use a very-well appointed flush toilet, a single seater no less, off the main lobby of the hotel. Thank you, Chicago Hilton. I met the group leader, Julie, and then when we couldn't find any other runners we walked over to the start. While it seemed a little humid, there was a nice breeze and I thought it was the most pleasant start I've experienced. The temperature at the start was 72, with
86% humidity
.
The race started just before 8 am, and I crossed the starting line about 15 minutes later. It ultimately took about 30 minutes to get everyone across the starting line, and I think this made a huge difference to runners who started toward the end.
The first mile of the race is always a surreal experience--the runners are packed in, there's music blaring and people cheering and screaming. Your heart is pumping in your throat and so much adrenaline is running through your system that you have to fight the urge to take off as fast as you can. One thing that helps stop you from doing this are the vast numbers of boneheads in front of you. Each year that I've run this has gotten worse: the numbers of people who plan to
walk
the marathon route, yet line up with people planning to
run
the marathon in 4 hours. The biggest challenge in the first mile is not running into someone, or tripping because someone steps in front of you or bumps into you. Aggravating the obstructive walker situation are the speed freaks who, only a few hundred yards out, are hauling ass, cutting in and out like they're trying to catch up with the elites up front. What's satisfying is when you pass some jagoff like that about 10 miles later, burned out because he started off too fast. Even consciously trying to slow down, my first mile pace was 9:48. Too fast.
I knew that this would be a tough day by the time I got to the second aid station just past the 3 mile mark. Normally the first three miles of a long run for me is like a warm-up. This time I was drenched in sweat by 3 or 4 miles in, as were almost all of the people around me.
Let me take a moment and explain how the aid stations work. They are placed at regular intervals along the route; each aid station runs for approximately 1-2 blocks on each side of the street. The first half is for Gatorade, the second half is for water. Elite runners have their own support crews to keep them hydrated and don't even use the official aid stations; after that come the better amateur athletes, people running a sub-three hour marathon, and then the rest of us. Novice and slower runners (4 + hour finishers) are encouraged to walk through water stops to ensure taking in enough fluids. One of the risks on race day is slipping on the discarded paper cups and gel packets as you go by. In the previous two Chicago Marathons that I've run, the aid stations have been run with amazing efficiency.
Not this Sunday.
The first two aid stations were a mess when I got to them, 45 minutes after the race had started. Remember, I crossed the starting line 15 minutes after the official start, and I'd say about 50-60% of the field was behind me. There were piles of empty cups indicating that at some point in the recent past there
had
been water or Gatorade, but now there were only race volunteers directing runners to continue another half block to the remaining supplies. There I found too few volunteers trying to keep up with demand, and knots forming of dozens of runners trying to get fluids. Runners were bumping into each other and slipping on the debris. I saw plenty of runners go past the first two stops trying to avoid being slowed down by the chaos, expecting to get water later on when the field was less crowded. Unfortunately for those runners, the situation was just as bad at nearly every water stop after that. I found out today that for runners starting 10 or 15 minutes behind me, some of those stops were completely out of fluids by the time they got there.
Most runners have a carefully developed plan for fueling during the race. Over 18 weeks of training they work out a regime of taking in water, Gatorade and sport gels to keep them going. For a runner who plans on drinking water for the first
x
miles, and then switching to Gatorade, or alternating between the two, to arrive at an aid station and find his/her beverage missing is a real setback. I can't tell you how fundamentally demoralizing it is, especially to a first-time marathoner on an unexpectedly hot day, to run up on an abandoned water stop. It's like scene from a zombie movie--all those people going where they've been told to go, doing what they've been told to do, only to find the authorities are not in control. I lost my training run leader Julie at one of these water stops when she doubled back to get more fluids as more were put out by volunteers.
At some stops you could see the fluids stocked behind the stations, but the volunteers seemed unable to get the stuff poured and distributed to runners. In many cases they seemed simply unprepared and overwhelmed by the demand of the runners, which is doubly frustrating because for the past week we'd been getting email alerts from the organizers outlining all the extra preparations they'd made to deal with the heat. Preparations like making sure every runner had access to plenty of water and Gatorade.
But I was ok. I'd prepared, and I felt good. I slowed my pace, and at the 10k mark my pace was 10:38/mile, not bad given the congestion at the water stops. I ran into another running friend around 6 miles and we ran together for a while. I passed
a guy dressed as a giant set of testicles who was raising money for a testicular cancer charity, and at some point Johnny Yen shouted words of encouragement
which I heard, but thought maybe it was my mind playing tricks on me. Just before that I ran for a while with a guy dressed as Spiderman. I noticed some good tee shirts early on in the day. Like the one that said "Sometimes I like to run around in my underroos for no reason."
Around the same time I saw a guy wearing a shirt that said "I paid money for this?" I'm sure that after passing several chaotic and under-supplied water stops, lots of runners were asking themselves the same question.
Let me go on the record as saying I
love
gay people! I especially love all the residents of Boys Town who came out, so to speak, to cheer us on between mile 7 and 8. There were cheerleaders, a rifle drill team, a drag show and lord knows what else. There were a couple of guys on an apartment balcony holding up a big mirror so runners could see themselves, and they were yelling encouragement. I'm sure I missed more goodness as I ran by. The only problem was, at 8 miles I was just hitting my stride, and didn't need the inspiration yet. I think that next year, race organizers should try and get the members of the gay community to set up at the 22-25 mile mark, where we could
really
use their enthusiasm. Maybe organize gay buses or something to get them in the right place.
Going south from mile 8 things started grinding down a little. My pace slowed to 10:45 by the 15k mark, which I put down mostly to the delays at the water stops. In colder weather I could have skipped some of the stops, but I wasn't about to do that in this weather. So I stood in line, got my fuel, and lost a minute or so at each stop.
Some time around the 10 mile mark I started noticing more and more runners walking; not the "walkers" I mentioned earlier, no. These were people wearing pace bibs indicating that they were 9 and 10 minute milers, some of whom looked quite fit. I started wondering where all the shade went. And I started to notice the ambulances.
Around 10 miles I started to see an increasing number of runners dropping out. I saw my first person on a stretcher between mile 11 and 12 I think. And you could hear a lot of sirens, more as the day went on.
At the halfway mark I had slowed to a 10:50 pace, which I was happy with given the weather. My legs felt great, my breathing was good, but it almost felt like someone was pressing down on my shoulders as I ran. I told myself that I'd run 20 miles, no problems, and just thought happy thoughts. Those happy thoughts got harder to hold on to as the number of people leaving the course, vomiting, and collapsing increased through mile16. The run west of the Loop was brutal. No trees, not a lot of entertainment or spectators, and one badly-run aid station after the next.
Just before the 16 mile mark I grabbed extra fluids and walked through the water stop. I was starting to get chills up and down my back and my hearing was getting fuzzy--basically everything sounded like my heartbeat. I walked for about 5 minutes and took my own pulse (130) and then, thank God, Iggy and the Stooges came to my rescue.
I don't know what freak was allowed to choose the music at the Power Gel zone on Taylor Street, but THANK YOU. Roused by the inspiring strains of "Search and Destroy", I grabbed some kind of extra-caffeine gel, took more water and kept on running.
Let me go on record as saying I
love
Mexicans! Especially the residents of Pilsen, who came out along 18th street between mile 19 and 20 to cheer us on. Dozens of residents along 18th Street brought out their garden hoses and took it upon themselves to help cool and hydrate passing runners. I grabbed a big chunk of ice from a gent standing on the sidewalk with a big bag of ice. After rubbing the ice on the sides of my neck and wrists to cool off, I placed the chunk under my hat and let it melt there as I ran. There were beautiful girls in Mexican folk costumes. There was awesome Mexican disco music blasting from a loudspeaker, and then, best of all, a few blocks down there was a guy playing US Marine Corps running cadences from a loudspeaker in front of his 2-flat. I got my second wind and picked up my pace as the caffeine gel kicked in.
Around mile 21 I heard a Chicago Police officer talking over his squad car PA system, saying the race was canceled. I found another officer standing nearby, stopped and asked if I'd heard correctly, and he said I had. We were told to walk to the next aid station and find buses to take us back to the finish in Grant Park. We walked for a while, and didn't see any sign of any buses or aid stations, and the spectators were still cheering, so we started running again through Chinatown. At the 35k mark there were more police and more race officials telling everyone that the race was over, and to stop running. At one point several officers stood in the street, arms in front of them, ordering runners to stop running. I heard one officer say over a squad car loudspeaker "Please stop running, the race is over...several hundred runners have been taken to the hospital because of the heat, please do not continue to run." I figured I'd stop at that point; while I could take the first officer's order as a suggestion, to ignore the second order would be kind of ignorant.
At this point I was looking south along Wentworth. The scene reminded me of Hurricane Katrina: thousands of bedraggled, soaking wet, smelly people shambling along a street littered with trash, onto an overpass, with sirens wailing in the background and helicopters thumping overhead. There were no buses. Evidently, the buses were for the people who were stopped
before
they got to the halfway mark. The rest of us had to walk the rest of the way, another 4 miles or so. Runners continued dropping out even as we walked north along Michigan Avenue for the last 2 miles. You'd see people just sitting or lying on the sidewalks as you went by, some talking on cell phones, some rubbing cramped legs, some puking. I lost count of how many people I saw taken out on stretchers.
It was bizarre. So many of the spectators and volunteers along the route apparently didn't know that the race had been officially ended, and continued to cheer wildly, encouraging everyone to keep going. At one point I turned to someone at one of the water stations and asked "you do know that the race has been called off, don't you? That's why everyone is walking now." They looked confused and somewhat hurt, and I felt like an asshole.
The fire department had set up a huge fan and water source at the intersection of Michigan and Roosevelt, that sprayed a fine mist over everyone approaching the finish line. It was refreshing. Oh, did I mention the blisters? After running two marathons, and 21 miles of this one, without any injuries, I developed a wicked blister after being ordered to walk. Why? Because my shoes were soaking wet by mile 26 from all the hoses and fire hydrants that were used to cool us off the last few miles.
The last few hundred yards I walked with a man who looked pretty fit, and said he'd run 30 marathons. He said this was, without a doubt the most miserable event he'd ever participated in. I finally walked and half-trotted, as the crowd allowed, over the finish line at 5:08:31, a final pace of 11:46. Only 2 minutes slower than I did in 1999, so I got that going for me. Which is something. As I walked away from the finish area I heard someone yelling "runner down!" behind me near where runners were getting the timing chips removed from their shoes. I walked over to the Field Museum, met the sweet and comforting MizBubs, and drove home.

On the way home we stopped and picked up some
Shiner Bock
beer. I made a banana berry smoothie loaded with whey protein to aid my muscle recovery, took a steamy shower, and flopped out, useless, on the couch for the next several hours. I had lost 4 pounds during the race. MizBubs roused me briefly to feed me some delicious Japanese food that she made, and then I returned to my torpor.
_____________________
I started writing this morning. Since then I've had a nice lunch with MizBubs and our eldest, done some stretching, handled some appointments and even ran a mile to loosen up before dinner. That blister is doing better, and I feel pretty good. I'm starting to think about the Las Vegas marathon in 8 weeks.
Watching the news has been interesting. The "deadly marathon" led the evening news, and it was on CNN off and on all day, competing with a killing spree in northern Wisconsin. Now, of course, lots of people are looking for someone to blame. All I can say is, this event was
nothing
like the other two Chicago Marathons I've run. Face it, the human body is not meant to run a marathon.
The first guy to do it died, and Pheidippides was the best runner the Greeks had
. Since 1998, five runners have died in the Chicago Marathon:
One case of hyponatremia

Cardiac arrest
One runner collapsed with a body temperature of 107
Two cases of mitral valve prolapse
The Chicago Marathon is widely promoted as a great event for first-time runners. It's popular with runners wanting to raise money for charity. The race has grown from 25,000 runners in 1999 to 45,000 runners registered for 2007. So yesterday we had a race, the second biggest marathon in the nation, marketed heavily to novice runners, starting on an unusually, freakishly hot day. If there was such a thing as a perfect storm for bad marathons, yesterday might have been it.
The race director, Carey Pinkowski, hit a sour note by first denying that there was a problem with the availability of fluids even though multitudes of runners were saying that aid stations were out of water or Gatorade; then he conceded that there might have been a problem with
distribution
. I'll bet there was an attorney telling him not to admit any fault or apologize. Here's a choice quote from Mr. Pinkowski:
"Is there anything we could have done better? No. We anticipated the weather. I'm very proud of the way things went."
He later sounded like he was blaming runners for the shortages by saying that race organizers could not anticipate runners dumping water over their heads to cool off
. I'll tell you this--for whatever reason, the aid stations were terribly run. I have never seen water stations run so badly in any race I've ever participated in, and I felt bad for all the first-time marathoners who had to deal with that.
There's plenty of anger in the messages being posted on the
Chicago Marathon forums
. Check out a few of them
here
,
here
and
here
.
The website
www.marathonguide.com
is a good source of news and information about marathons all over the world. Here's
a link to runner comments on the 2007 LaSalle Bank Chicago Clusterfuck
. 497 comments so far, and it's not happy.
The Chicago Tribune has some excellent photos
here
, and a decent article
here
.
There are now 130 comments
following the article
, and they provide a good example of the disappointment and frustration of many of the runners. Others are notable for the downright nasty, blame-the-victim tone they take. Evidently a significant number of commenters view runners who take longer than 4 hours to finish as overweight slobs who have no business running a marathon.
To me the most remarkable aspect of this event was the response of non-running Chicagoans to the crisis. I can't count the number of people who took the initiative to do something to make the event more bearable for the runners. I got a Jolly Rancher from a family on Taylor Street who were giving away hard candies. A lady somewhere along Wells Street had a bunch of kids lined up with spray bottles offering a shpritz of cold water to anyone who wanted it. People in Lakeview who woke up early after a night spent partying in fabulous clubs to provide entertainment for us. The unbelievable kindness shown by all the police, firefighters, medical personnel and volunteers along the way who helped fallen runners. Race organizers claimed to have ice along the way, but the only ice I saw was from the Mexican guy in Pilsen. I don't know if I have any readers in Pilsen, but boy, if I did I'd hope they told everyone in their neighborhood how grateful I was for their help and encouragement.
Like I said at the start of this marathon-length blog post, I'm a lucky man.