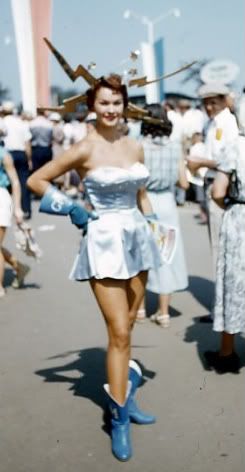 Howdy!

MizBubs and I met the lady to your right last December in Las Vegas. She was taken with my gold lame jacket, and we were both impressed by her atomic headgear and pneumatic sense of style. After a few drinks and a reasonably priced buffet, she agreed to stop by and help host our "

The Future, the way it used to be

" feature.

The year is 1957. A bold visionary by the name of Frank Tinsley reports that, in the not-too-distant future (1965), mail will be delivered via

rocket

:


IT'S Friday noon. In the home office of a giant New York corporation the final drafts of a secret merger are being signed. If they can be signed by the party of the second part in San Francisco and be back here in the office before the stock market closes—so that "buy" orders can be rushed to dealers throughout the country—a possible Monday financial slump can be averted. The atmosphere is tense. A micro- photo machine has been moved into the president's office and a trusted operator inserts the sheets, one by one. Two tiny prints of each emerge, one for the files and one for mailing. The latter is sealed in a pencil-thin plastic carrier bearing the written address and the code punch for San Francisco. The carrier is then popped into a pneumatic tube that takes it to a central post office where it emerges into a sorting machine. Automatically identifying the punch mark, this device drops it into the San Francisco container. At scheduled intervals, an attendant seals these containers and inserts them in a large pneumatic tube to the rooftop heliport. Here our letter is picked up by a fast convertaplane that flies hourly between the city and the rocket base.

Arriving at the base, our pilot hovers over the Frisco-bound rocket. Mail containers are lowered to a loading crew perched high on the missile's open cargo doors. Parcel post packages follow swiftly and the doors are swung upward and locked. The "service stand" retracts its telescoping tower, folds it neatly on its bed and pulls away from the missile pit.
You can see the rest of this nifty article at one of my favorite places, Modern Mechanix. Honestly, I am envious of all the cool stuff they've got over there.