Now for the hard part. The sadness.

I knew it would hit me at some point.

I planned on taking MizBubs and the girls to show them where I worked when I went down there with some brother officers after Katrina, and I wanted to show them the houses we gutted in St. Bernard Parish in March 2006.

We didn't make it to the 2nd District at Napoleon and Magazine, but we did head to St. Bernard Parish.

St. Bernard Parish lies just east of New Orleans. It's a middle and working class parish, full of modest homes, businesses, chemical plants and oil refineries. If you like shrimp, a lot of your favorite shellfish comes from there.

It's also the home of the Chalmette Battlefield, where the Battle of New Orleans was fought. The battlefield has recently reopened to visitors, but there's not a lot to see there. Here's a view from behind the American lines, looking out toward the British:
We drove east into St. Bernard after eating lunch at Elizabeth's, home of praline bacon. When I went down there with Splotchy and MizBubs' sister and brother in law, we stayed in a tent city next to the Chalmette Battlefield and spent our days gutting a couple of houses whose owners had signed up for assistance from the parish.

Much of St. Bernard Parish is still a ghost town. No one has moved back into the two houses we gutted. I talked to a neighbor of one of them, and he said the homeowner took her Road Home grant and relocated. So had most of the other people in the neighborhood. A lot of people don't want to move back as long as MR GO stays open, making it possible for the next storm surge to again flood the area.

MR GO, the Mississippi River Gulf Outlet, was built in the 60's as a way to allow ships to pass from the Mississippi River directly into the Gulf of Mexico. It's now more than 3 times wider than was originally intended, and it acted as an expressway channeling floodwaters into St Bernard Parish during Katrina. The Army Corps of Engineers has plans to close it, but the government is dicking around, and it remains open as I write this.

We drove back west into the lower 9th ward, and I showed the girls where the levee had broken. When I was there in March 2006 (nearly 8 months after the hurricane) the neighborhood looked like this: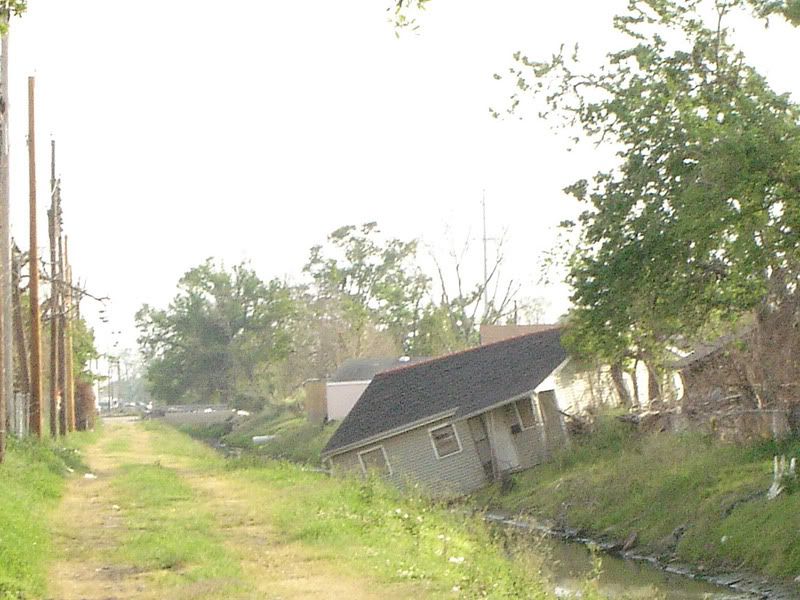 One of the things that impressed me, in September 2005 and in March 2006, was how many people had hoisted American flags, either as they left or as they stayed and tried to get help. A defiant and poignant reminder: "HEY LISTEN! WE ARE AMERICANS, AND WE WILL NOT GIVE UP!"

I took this picture of a church just a few blocks from the levee in March 2006: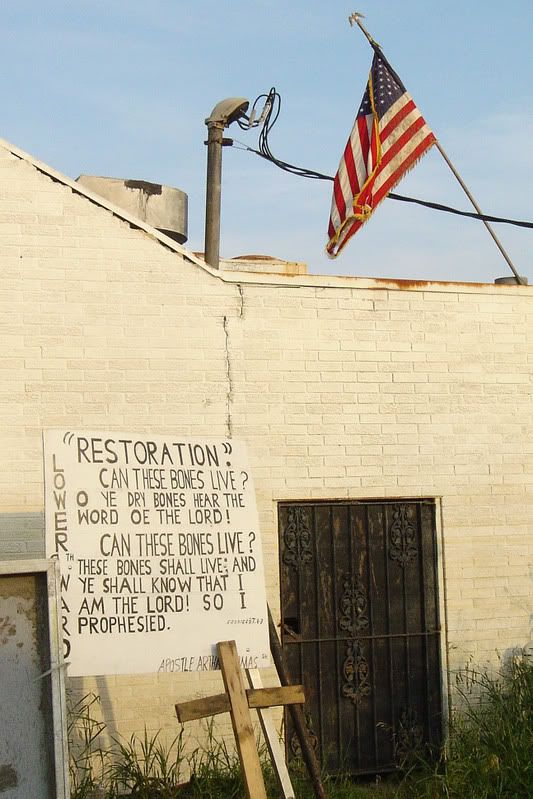 A short distance away from where this picture was taken we came to a haunting sight. The block had been cleared of all its houses, and looked at first just like a vacant field. Looking closer, there was a row of concrete stoops and driveway pads, one after the next, stretching the entire length of the block, each one representing a home and a family that was no longer there.

The instant I got the girls out of the car to stand and take it all in I felt like an asshole for asking them to do it. Everyone went silent and the silence stayed with us for a long time after we got back in and drove off. I wish every American could spend just a few minutes here, and maybe for a moment understand how profoundly we failed our own citizens. And maybe want to do something to help.


_____________________


New Orleans is in trouble.

For a first-time visitor to the French Quarter or downtown, you'd never know the difference.

Get outside the tourist area, and look around. The lower 9th ward resembles a war zone, and the middle and working class residential neighborhoods lakeside of St Charles are only partly populated. The population is about half of what it was. And the shitheads and criminals are back.

Just after the police announced that violent crime is down compared to this time last year, six more murders were committed over the weekend. According to this story in the Times-Picayune, rates for armed robberies spiked 25%, and assaults increased 33%. No one is exactly sure what to make of it all. No one's even sure of how to calculate the figures, since no one agrees on exactly how many people live in the city now. The NOPD says it's about 318,000 while another study estimates the population at 300,000. The police say they're "having a horrendous time dealing with the mentally ill". This is attributed to the loss of hundreds of hospital beds designated for mental health patients.

I met a young woman in a bar who told me about getting robbed on the street a couple of weeks earlier. A friend of hers had been robbed in the middle of the afternoon by an assailant wielding a shotgun. Almost everyone I talked to had a story about getting robbed or having a house or car broken into. I've never been anyplace where I've heard more people talk about crime.

There have always been gutter punks hanging around the lower quarter every time we've visited. It seems like there are a lot more of them now. They don't add anything to the atmosphere, I'll put it that way. There's nothing like seeing able bodied white kids sitting around begging when there's so much work to be done.


_____________________


Rich people like the French Quarter. We saw several for sale signs, and most of those signs were from Sotheby's. The lower quarter seemed almost deserted at times--you could tell that the buildings were occupied, but no one was around. A lot of property owners appear to be absentees. For all the Nick Cages and Brad Pitts buying real estate, few of them appear to be really living there year round. So where do all those shop clerks, and hotel staff and waiters and waitresses who work in the French Quarter serving tourists like us live? Not where they work, that's for sure. Rents have skyrocketed. Part of the charm of the French Quarter has been that it is a residential neighborhood. Now it seems in danger of becoming a ghetto for tourists and the very wealthy.

The vibe was different. I wasn't sure if it was me, because I'm a cop, bordering on paranoid, who distrusts and dislikes almost everyone. But my kids sensed it too. A certain wary, worn-down feeling. Some bursts of anger out on the street that I hadn't seen before--traffic disputes, drivers leaning on their horns and yelling. It wasn't much compared to what you see in a city like Chicago on any given day, but it seemed sadly different for New Orleans.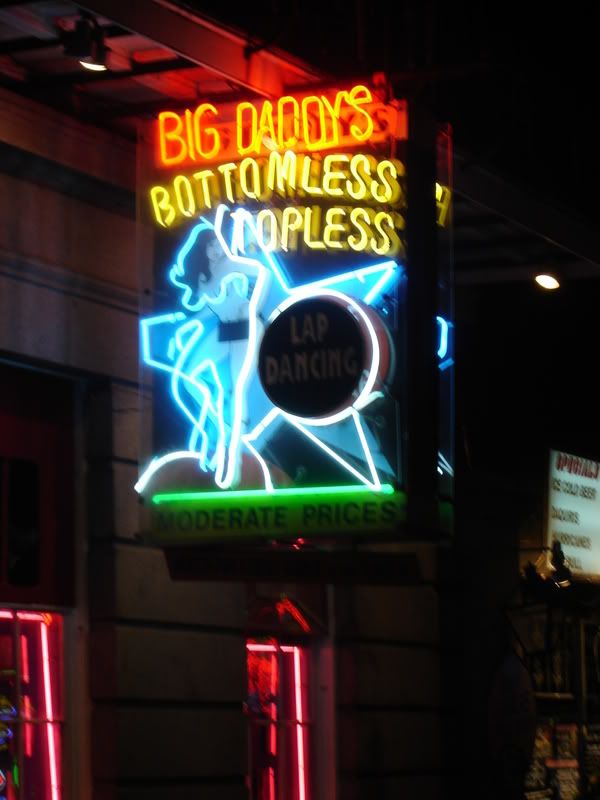 The upper end of Bourbon Street, closer to Canal, is more porno'd out than it used to be. While Bourbon Street has always had its seedy strip clubs (Bottomless! Topless! Moderate Prices) there are now more in-your-face clubs like Hustler, Deja Vu, Little Darlings, and the girls are out on the street soliciting business. The strippers looked tired and disinterested as they stood outside the door, one foot propped back behind them on the wall. It was sleazy, and not really in a good way. At least now my kids know what a stripper with a beer belly looks like.


_____________________


Then there's the "recovery". I honestly don't know what to think. In some ways progress has been phenomenal, and in others heartbreakingly slow. I ran into a cop from St Tammany Parish at the ILEETA conference. He claimed (and I have not been able to find any figures for this) that for the amount of money pledged to Katrina recovery, and spent without anyone really knowing where it's gone, you could've cut a check for $1 million to every displaced family and be done with it. Like I said, I have no idea if he's correct, but it does look like the Bush administration has approached Katrina recovery with the same prudence and oversight that they've shown in Iraq spending.

This was a front page story while we were down there:

The article features a woman who purchased a town house from HUD as part of a low income housing project. The townhomes were built on a toxic dump, later designated as an EPA Superfund site. After surviving cancer, probably caused by the poisons she'd been living on, she lost her home when the levee broke. Now the
Road Home
program won't pay for her property because her home sits on contaminated land.

I guess we're all beginning to suffer from Bush cronyism and corruption fatigue, because I don't remember this story getting a lot of air time. The Secretary of Housing and Urban Development (HUD) resigned, and is under investigation for awarding contracts to political buddies. According to this story in the Chicago Tribune:

The FBI is looking into ties between Jackson and a friend who was paid $392,000 by HUD for work as a construction manager in New Orleans after Hurricane Katrina
How long, Lord?

_____________________


Now, don't despair, because that does no one any good. New Orleans and the people who live there are keeping on. They are a stubborn bunch, and they're not about to just give up and let the city die. Me, personally, I feel like I owe them, for all the hospitality they've shown me, for the food, the music, the cocktails, the stories, you name it. So here are a few ways an average Joe or Jane can help out:

New Orleans Area Habitat for Humanity

I can't say enough good about these people. You can click on that link and donate, or even better do like Splotchy and I, and get down there and volunteer. Build something. Splotchy is a mensch, he's been down there twice, but I aim to catch up with him this summer. Here's individual links to make it easy for you:

St Bernard Parish project

Musician's Village

Donate Online

There. Wasn't that easy? I'm sure if you spend a little time you can find dozens of other worthy ways to donate time, goods or money. Please do, and if you find a good charity, please let me know and I'll include it in this list. Here's a good idea: plan your own trip to New Orleans! They'd love to have you, and it's probably one of the only places in the world where your tourism dollar actually

helps

. You can have a good time and participate in the rebuilding of a great city at the same time. Let me know if you go there, I know some good places to eat and drink.

Closer to home there's someone else who is doing her part to help out. Chicago's very own Amy Guth is organizing the upcoming Pilcrow Lit Fest, right here in Chicago May 22-25. They also has a blog with lots of neat interviews. The lit fest itself will be a blast--you'll get to meet loads o' cool authors, including the sweet and hilarious west-coaster Katie Schwartz.

Anyway, Pilcrow is asking for donations, and you'll find a little donation widget later in this post, as well as in the top right corner of this blog. Why? I'll just steal this bit of text from their site:
Why are we asking for donations?



Pilcrow has a small staff, dedicated to bringing together great writers and publishers in Chicago. Our fundraising goal on May 24 is to raise money for the NOLA Libraries through a silent auction of Rebuilt Books.

Creating and curating a festival takes lots of little things that take a little money.

Name tags, lanyards, printer catridges, a case of wine, cornbread muffins, and other odds and ends that haven't made our list yet.

Since many of our friends can't volunteer time, they asked to make it easy to donate money. And so we are using ChipIn. The goal? To raise money to throw the event which will raise, we hope, buckets of money for New Orleans Libraries.
Here's a link to the New Orleans Public Library "How To Help" page, detailing different ways to help out.

Thanks for doing what you can. My wife and my mistress both say thanks.