We've been home three weeks now, and I can't get that place out of my head. Since I can't, y'all are stuck with having to read about it when you visit here.
I have a mountainous backlog of alligator stories, weenie wavers and freaks to get out there. I'm afraid I've fallen down on the job in the public service announcement department, so I'll try and make these trip notes as brief as possible. The fact is, though, it makes me happy to talk about my favorite city, so it will probably be another day or two for me to get back to the usual stuff.

So far you've seen my feeble attempt at blogging on location, a short post about missing it, a brutal self-assessment, and most recently talk of swamps and offbeat roadside attractions on the north shore of Lake Ponchartrain.

But what about the city itself?


A lot of stories start like this:

A guy goes out of town to a conference, and then meets

her

. You know the kind of story I'm talking about, right? A romance, I guess. Well, maybe romances don't start that way, come to think of it. Stories about affairs and one night stands do.

I'm not talking about a one night stand or any short-lived affair. No sir.

Let me start over. Go back about 10 years and picture a man who might bear more than a passing resemblance to yours truly: a regular guy, late 30's, happily married with a wife and two kids. Hard worker, good provider, good husband. All that stuff that usually describes a character in a situation like this. Solid. Reliable. Suburban.

So this guy goes to a conference, out of state, to a place he's never visited before. Baton Rouge, Louisiana. He is by himself, among strangers: no coworkers with him, and no friends or family in the area. The city of New Orleans is only about an hour's drive away. When the day's training is finished, he hangs around and drinks with his fellow attendees, and he starts to get restless. Underneath that solid suburban image lie some wilder, more primal impulses. He's good at talking people into things, and he eventually gets his roommates--a private security contractor who doesn't drink, an Australian prison guard who does, and an Air Force criminal investigator--to agree to drive to New Orleans for an evening. The airman has a government rental car, and the teetotaling security contractor agrees to drive it. The Australian is along for the ride.


About an hour later they're following an exit sign from I-10 that says "Vieux Carre" and minutes after that the car is parked and just after that go-cups are in hand. The first beer is cold and perfect. Another go-cup, or two, and everyone's laughing and talking a little louder. Some boys are tap dancing on the sidewalk, a shill is trying to get them into a strip club, and someone else tries to tell the Australian where he got his shoes at. Things begin to blur.

Then he sees

her

. Really

sees

her, and he is

gone

. He didn't know it yet, but at that moment--intoxicated not so much by the beer as by the sound and smell of her all around him--he was hopelessly in love. In the next couple of hours she fed him, and got him mildly drunk, and wrapped him up in a warm, slightly stinky embrace of music and laughter. She told him stories.

She wasn't necessarily good for him, or for that matter, for herself. She drank too much and carried some extra weight, and she tended to get a little loud. As beautiful and gracious as she was, she could be kind of slovenly. She always hung out with a criminal element. But she was hot, and he couldn't get enough.

Over the years he'd return to her, again and again, and each time they reunited it was exquisite. He began to feel insanely protective of her, and would jump into a car and drive for hours to come to her when she needed help. When he was away, he spent hours pining for her.

Ah, let's drop the ridiculous pretense. That "guy" was me.


_____________________



MizBubs says that New Orleans is like my illicit lover. I don't care that my lover has a lot of unhealthy habits and doesn't do what she's supposed to do. After 10 years she still makes my heart race. I even introduced her to my wife and family, and they all got along famously. They're very open-minded in that regard.

As I've said before, this was the girls' first post-Katrina visit. They were excited and happy to be going back, even if they were a little apprehensive.

We stayed at the Le Richelieu Hotel in the lower end of the French Quarter. It was lovely. Nice little courtyard with a pool, and a cozy little bar where they make a great bloody mary. Here's what it looked like as I reclined in my patio chair:




Here's what the front entrance looks like:


One of the best things about the Le Richelieu was that I saw the most wonderful redneck woman there. Now, before I tell you about her, let me describe the guests at this hotel. There were a few families, a few European tourists, quite a few older couples, and a lot of gay and lesbian visitors. Not many 20-somethings or raucous types; they tend to stay closer to the action on Bourbon Street. What I'm saying is, it's kind of a classy place, even though I was there.

You can imagine how pleased and surprised I was to walk down to the bar one afternoon and find a 30-something hot mom sunbathing by the pool. She looked way more Daytona Beach than French Quarter.

She wore a revealing confederate battle flag bikini. She had a navel piercing tucked into the stretch marks of her reasonably-small but obviously child-bearing belly. Bleached blonde hair with dark roots well0-displayed. Oh

yeah

...

My youngest daughter is a good sport. I may be a voyeuristic freak, but I didn't want to get caught looking like one. I got my daughter to take a camera phone picture for me. I tried to get her to take one from in front, but the girl has her limits.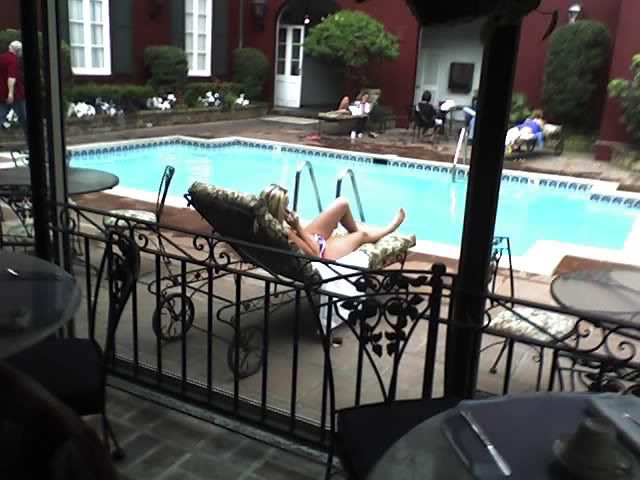 Our first night there we ate at the Praline Connection on Frenchman Street, and sadly it was one of the places that wasn't as good as I remembered. The staff is still friendly, and the greens and fried dill pickles were excellent, but that was it. The jambalaya that my eldest ordered had what appeared to be frozen vegetables in it, and she only took a few bites of it before pronouncing it no good.

On our way back to the hotel we were grabbed by a couple of fellows outside the Balcony Music Club at Esplanade and Decatur, and invited in to see a show. The girls must have fitted the young hipster demographic they were looking for to fill the club so they'd be booked again. As we went in my rule-following youngest looked back at me and mouthed "we're not 21" and I told her not to worry. I wish I could remember their names, because they were good. The guitar player's name was Micah.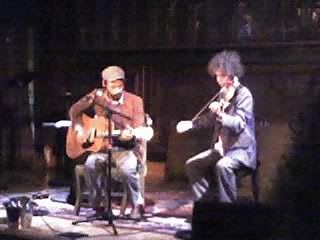 I found out that in many quarters Miller High Life has replaced Pabst Blue Ribbon as the hipster beer of choice.

The first thing that my daughters noticed was that the Quarter is cleaner than it was before. There are now fleets of imposing black garbage trucks and an army of uniformed sanitation workers swarming the French Quarter. They belong to SDT Waste and Debris Services.

The owner, Sidney Torres IV, is the son of a prominent local attorney and former personal assistant to Lenny Kravitz. This is the first time I've seen more sanitation workers than cops in the French Quarter. As nice as it is to see things cleaned up, there is something vaguely creepy about constantly seeing these trucks and their Nextel-talking workers, all over the place. It reminded me of Soylent Green, or Brazil.

The second thing they noticed was that a lot of places closed early. Our favorite bar, the Napoleon House, now closes at 6pm. It used to be a favorite late night hangout of ours. They still make a great Sazerac, and the food is still tasty. They're the only place I know of that serves a muffuletta sandwich warm instead of cold.



We saw more brass bands on this trip, which was a good surprise. There were two or three at different times around Jackson Square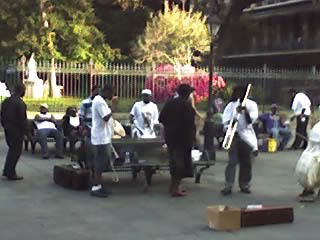 On our last night we walked back along Frenchman Street. If you've never been to New Orleans before, and you visit, do yourself a favor. Skip that Bourbon Street bullshit and spend most of your nightlife time on Frenchman Street. There's a bunch of great clubs, some good restaurants, and the whole area takes on the aura of a neighborhood block party.

MizBubs and I got to see Ingrid Lucia performing at DBA. MizBubs chatted with her after the show, and she was absolutely lovely and charming. You haven't lived until you've had a few drinks and watched a dark-haired beauty in a party dress sing an uptempo version of Rhinestone Cowboy.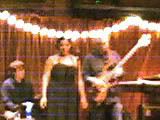 Later that night we saw a brass band performing on a corner, and within a short time a crowd of about 150 people gathered and stopped traffic at the intersection. There were people dancing in the street and clapping along, and for a while it was possible to forget that anything bad had ever happened here.