Yes I have.

I've been blogging nearly 2 years now, and I really enjoy it. Along the way I've met some really swell people, and there are eveen more that I haven't met, but feel like I know well enough to consider friends.

There are a lot of you out there with a lot of talent. I mean, really. There are some creative people out there and they've got commercial ventures that deserve recognition. I've been meaning to promote these for a while, but just haven't gotten around to it. Until now. I'd love to see any of the people I'm about to mention get rich from their art and their hard work.

_____________________


First there is Jin, proprietor of Uniquely Yours Pastry Shoppe. Let me tell you something--she is one
hawt
cheesehead, and she is an absolutely magnificent pastry chef! My introduction to her art was the Black Pearl:

Dark Belgian chocolate ganache is infused with a perfect balance of organic black pepper, ginger & wasabi. Dipped in more dark Belgian chocolate, then rolled in toasted black & white sesame seeds for crunch.
Please, do your tastebuds a favor and order something from her.

Amy Guth is talented and funny and unbelievably gracious. I'm a sucker for anyone who treats my daughters so well and is so genuinely kind to them. She's the author of

Three Fallen Women

from So New Media. She hosts the ongoing Fixx Reading Series, and most recently she's organizing and promoting the upcoming Pilcrow Lit Fest.

Doctor Monkey Von Monkerstein has an amazing collection of postcards (if you're lucky you might even get one in the mail), and a taste for vintage communist propaganda. He's one talented monkey, and he may be the Compound's favored candidate for president in 08. Here's the thing, though--he's also a writer! I read his first novel,

Trouble DeVille

, and I've been bogarting it ever since, which has kept Splotchy from reading it. Dr. MVM's debut novel is a complicated southern mess, replete with bible thumpers, lesbians, white supremacist webmasters and plucky independent bookstore employees. I told him that I was impressed with how many plot lines he was able to weave together, coherently, since my attention span barely allows me to finish typing this sentence. There's gunplay, and a cute gal with a gun on the cover, which I love. Click here to see how you can order this book.

Splotchy is, I think, one of the smartest, cleverest and funniest bloggers around. Plus I happen to know he's a truly decent fellow, and does good works when he's not entertaining us all. He's making a movie, too, but I can't plug that because he hasn't shot it yet. But here's what I can plug: his fabulous line of iSplotchy gear, available for purchase right here.

What can I say about Katie Schwartz? Schwartzy, as I think I'll start calling her, since she calls me "Bubbsie". She makes me blush because she repeatedly uses the "c" word and all. The reason I mention her is that she's got a book coming out soon, and if it's half as good as her normal musings on this and that it's going to be awesome. Look for her upcoming book
Emotionally Pantsed
from So New Media in the next few months.

Becca from No Smoking in the Skull Cave lives here in northern Illinois, and yet we have not met her. She has excellent taste in pinups and exploitation movie posters. Her blog is occasionally not safe for work--as a matter of fact, I can't read it at work because it's filtered--but that's another reason to love it. Becca is an artist and has a business called Wink Studios. Recently we did some remodeling, and I bought MizBubs this original drawing for her tiki bar: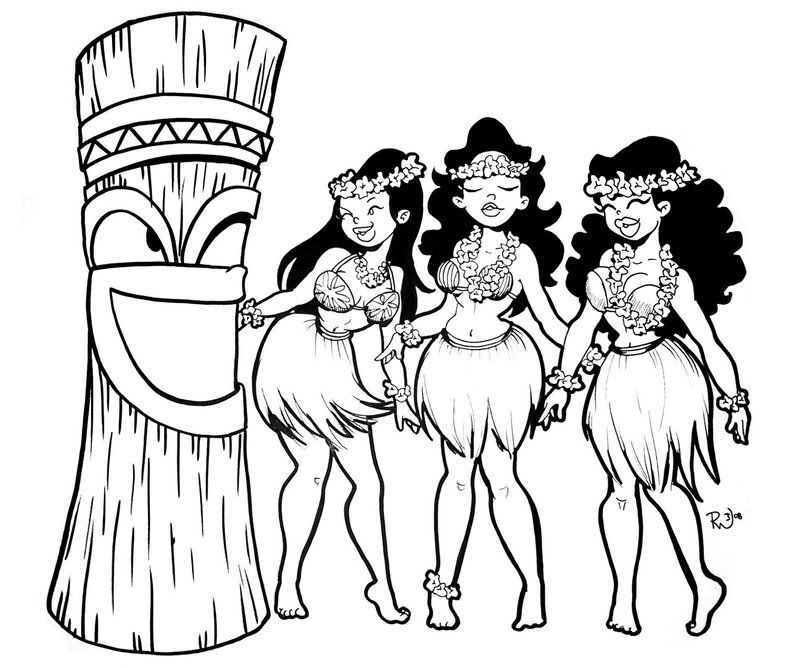 Becca was a pleasure to do business with. If you get a chance to buy one of her drawings, do it.

Write Procrastinator is, as you may have guessed, a writer. I like his style. He has given me one of my favorite phrases:


"Procrastination? It's CRACK for writers."


In addition to his regular blog he's got some clever side projects too.

He's got some good swag over here.


_____________________


That's it for now. I'm off to beautiful Springfield, Illinois, my least favorite city in the midwest, for the 2008 Illinois Police Memorial. Our honor guard will be participating in the memorial ceremonies. This year the memorial falls on May 1, which is usually celebrated here at the Compound with labor songs, red banners and maybe a trip to the Haymarket Martyrs Memorial.

I'll be back in a couple of days.

Take care.