I'm still happily exhausted from last night's fundraiser for the New Orleans Public Library Foundation. We got home well after 1 in the morning, and ended up sleeping until 10:30. Ahhhh.

Amy Guth raised $4,000 in one night, and she is to be mightily commended. Watch her blog, because I'm sure she'll be posting a bit once Pilcrow ends tonight. I was thrilled that, in the end, I could use my powers for good by providing an armed escort to Ms. Guth when she deposited the proceeds at the bank. At one point one of my daughters asked if I was drunk, but then realized that it was just that my eyes had taken on that watery just-about-to-cry look that I get sometimes when people start talking about New Orleans.



What a wonderful night. I ended up bidding on, and winning, a rebuilt book from author Timothy Schaffert. He had re-worked a library copy of The Phantom Limbs of the Rollow Sisters with some doll parts and an antique key. My youngest fell in love with it. After the auction Mr. Schaffert stopped by and chatted, and my daughter told him that his rebuilt book reminded her of the movie Tideland. I think he took that for the compliment it was intended as.

Katie Schwartz... Katie Schwartz! She's now part of our family, and we look forward to her return in October. I wish I'd had more time to talk with her friend Jonuel (I think that's the spelling?) because he was engaging, witty, and a great conversationalist. Meeting Katie and her friend, and seeing the response that Amy Guth got to her inaugural Pilcrow outing, reminded me of the experience we had at Johnny Yen's birthday party last weekend. In all cases I was impressed by the ability of good people to draw other like souls to them, and the gift it is to be able to introduce people, and turn strangers into friends.

_____________________


So now, how do we enjoy a day with nothing to do? (yes, I

know

about the pile of wood chips, pipe down, ok, I'll get to them tomorrow when I'm done commemorating our war dead.) Here's how we spend a day like that. We cook pork, putter around, and drink something tasty.

Right now we have 6 pounds of boneless pork ribs grilling over hickory smoke in back. According to MizBubs the back porch smells like a restaurant. I made fresh barbecue sauce, which I think came out pretty well, and she's made a huge bowl of Maw-Maw's slaw, an Emeril Lagasse recipe involving cabbage, kale and homemade mayonnaise. There's a pound of fresh asparagus waiting to be grilled, and ice cream from Capannari's.


And MizBubs, bless her, decided to make today's Sunday Afternoon Cocktail: Sangria!

1 bottle of rose wine
1 bottle of Pinot Grigio
1 Cameo apple
1 Valencia orange
1 pint of blackberries
1 cup of triple sec


Chop the apple and orange, and place in a large pitcher with the blackberries

Add the triple sec and let sit for a while

Add the wine, stir, and refrigerate for one hour

Serve over ice and enjoy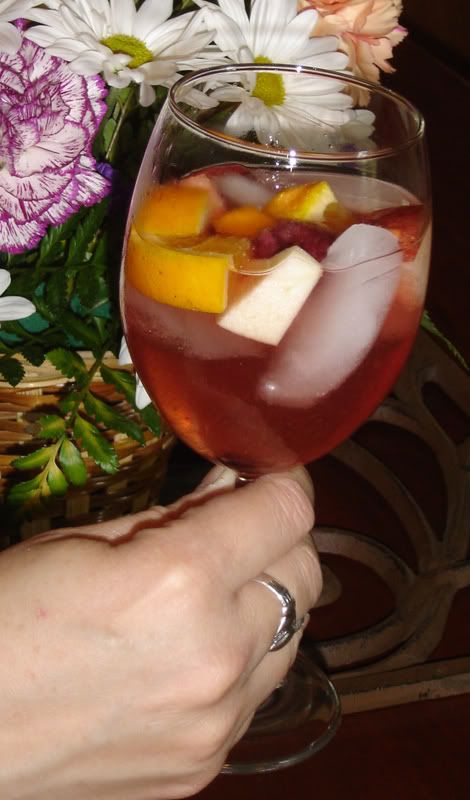 Bottoms up!