Not too long ago, while conducting some interviews at the scene of a fire, I told a coworker that apparently one sure way to get the pervasive urine smell out of a nursing home was to set fire to it.

Today I stood in a soot-blackened room for a couple of hours while other investigators took pictures. After a while I noticed a little something extra coming through the lingering smell of stale smoke and charred wood. Something pungent, not the burned smell I'd gotten used to. Then I saw a nearly full plastic male urinal still sitting, blackened but otherwise undisturbed, on a shelf on the opposite wall.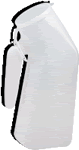 My initial observation regarding the relative strengths of fire damage versus nursing home urine smell had been wrong, and I'm man enough to admit it.