I'm ready for the 4th to get here. You may have noticed the new Independence Day-themed banner at the top of the page. I got that courtesy of photoshop wizard Dr. Zaius, and I'd like to thank him publicly for helping make things a little more festive around here. He also provided this alternate version that I may use to mix things up a little:


Nice work, huh?

_____________________


Well, today marked this summer's first appearance of the deep fryer. We did fried dill pickles, and I was told by the girls that they were better than the ones from the Blue and White Restaurant in Tunica, Mississippi

and

from the Praline Connection! Woot! Even better than the pickles, though, was the catfish. I tried out an Emeril Lagasse recipe that involved slicing the filets into 1" strips. They cooked for about 3 minutes (after soaking in milk and creole mustard for an hour, and being dredged in flour, corn meal and Tony Chachere's seasoning) and it might have been the best fried catfish I've ever eaten. I was stunned.
MizBubs found the slaw recipe she's going to use on the 5th, and it was delicious. It starts as a traditional cole slaw recipe, but has some fennel to perk it up. It was goooooood. On top of that, she made two loaves of fresh bread yesterday, and half a loaf got devoured with dinner.
We ate everything before I had a chance to take pictures of it.

We are going to have some feedbag next weekend. After tonight, though, we realized that the fryer is too much work for a party--I don't want to be slaving away over a vat of hot grease when there's people to talk to and drink with.

_____________________
Our eldest totally got ripped off at the zombie pinup contest at Flashback Weekend in Rosemont. She didn't even place.

Now look at this and tell me she isn't one amazing zombie pinup: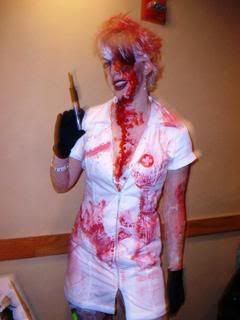 That's from one of her friend's pages. I'll try and find one that's not so blurry. She did say she met a lot of nice people and might pick up some makeup work in the near future. I wish I'd been that cool at 19.

____________________
There was no Sunday afternoon cocktail today. We have to focus.

Now it's time to get back to work.