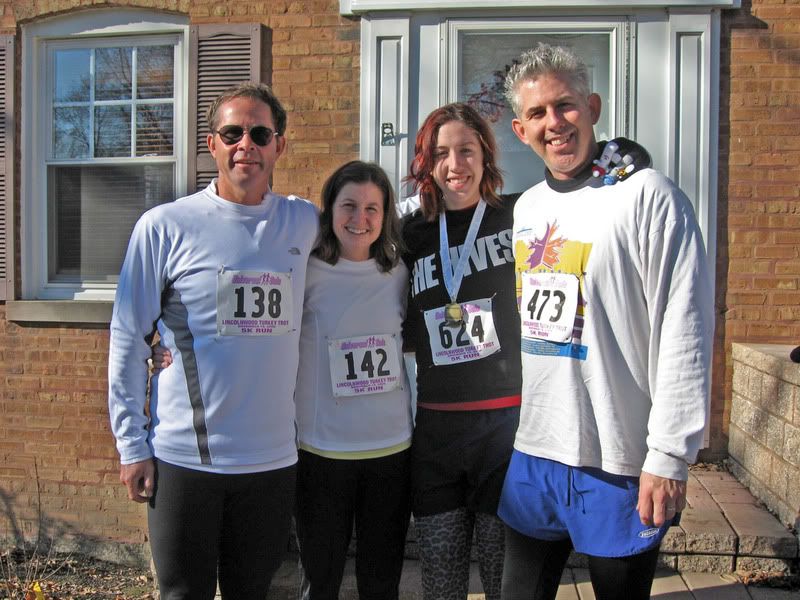 What a great weekend!
We are officially done with the 5th annual MizBubs' family early Thanksgiving celebration. No fires, no explosions, no visits to the emergency room. Unfortunately my nephews couldn't be here this year, and that reduced the level of good-natured inebriated zaniness somewhat. But we soldiered on, and it worked out fine.
This year we had more (and better, I think) food than ever: deep-fried Cajun turkey and deep-fried venison steak, roast garlic mashed potatoes, rosemary roasted green beans, a beautiful salad with blue cheese and pears, cornbread andouille stuffing, and spicy pumpkin soup for a starter. I think, in retrospect, the only thing missing was that none of our dishes called for bacon or bacon fat. I plan to remedy that next weekend, for the big event on Thanksgiving day.
We had 18 people for dinner, counting younguns. What a blast.
One big treat this weekend was I got to see my brother and his daughter, my niece Delaney. She is, without a doubt, I think the best, most agreeable child I've ever seen. They were visiting my mom's house, and I got to pop in there and say hi on my way to Costco to buy 5 gallons of fat for turkey frying.
My eldest daughter, the
Mad Seamstress
, my brother in law and his wife and I all got up at 7am this morning to run in the
30th Annual Lincolnwood Turkey Trot
. I think this is the fourth or fifth year we've done this. We eat like pigs, then get all likkered up Saturday night, smoke cigars (well, me and my brother in law Shane do, anyway) and then get up and run a 5k race first thing Sunday morning. The first year we did this we ran the 10k; we've since come to our senses and gone the short distance.
Anyway, this year was unique. I haven't run in about two months, so I knew I'd be pokey. My daughter hasn't run at all this year. And Shane...well. Let me tell you about
Shane
. He's my hero--a total crash test dummy, in the best possible way. He's a few years older than me, far more athletic than I've ever been, and he hurls himself into outdoor endeavors with such reckless enthusiasm that he not infrequently winds up in the emergency room. Years ago, I hoped to outrun him in a 5k race in Fredericksburg, Texas, because he was recovering from a biking accident that resulted in major shoulder surgery for him. He ran in a sling and still beat me. That's the kind of guy he is.
This year would have provided a golden opportunity, had I bothered to run or train at all in the past 2 months. See, about 4 weeks ago, Shane had a surfing accident. He got caught in a strong current, and found himself being thrashed, repeatedly, against a barnacle-encrusted jetty, until two fishermen pulled him out of the water. His legs and feet were cut to ribbons, and he described trying to clean his wounds in one of those little beach showers, watching strips of flesh and meat drop off his limbs. His
legs looked like this
, and his
feet looked like this
, just 4 short weeks ago. And today he once again kicked my ass and outran me. For that matter, my daughter, who I lovingly coaxed along for 3 miles with encouraging and inspiring words as she threatened, alternately, to vomit or walk, decided to lengthen her stride at the end and also finished ahead of me.
Now it's on to Thanksgiving day, and Iowa. Laissez les bon temps roulez.