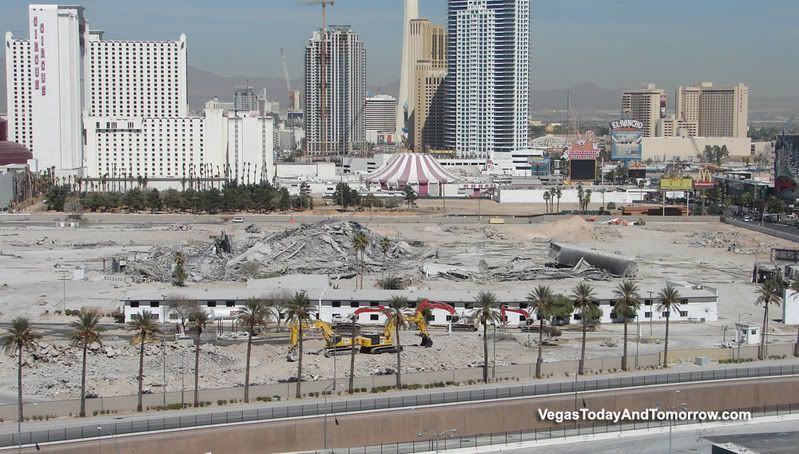 This is a picture of what's left of the Stardust, one day after the implosion. You can see the little slice of white trash hell on earth that is Circus Circus in the background.
See the McDonalds in the upper right corner? Part of the vacant lot next to that is the site of the former Westward Ho, home of the
99 cent, 3/4 pound MEGA DOG
, the 99 cent margarita, and a 5 cent cup of coffee. In addition to being the place in Las Vegas that I've most often been mistaken for security, it was the scene of the first badly-rendered version of George Harrison's "Something" experienced by me and MizBubs. Ultimately we would experience many, many badly-rendered versions of "Something", but none was as magical as that first time at the Ho. Oh, yeah--it was sung by an Elvis impersonator who was partly out of uniform.
I got the picture of the rubble pile from Vegas Today and Tomorrow. If you click
on this page
you can see all the new projects either proposed or under construction. There are plans for a new Maxim casino, a Harrods-themed casino, and expansions of the Tropicana and Caesars Palace. The mind reels.
I've started going through my Las Vegas files again. I have a bidness trip planned in May, and the nerves are starting. Slowly, but surely--I'll be in full twitch by late April. There are new places I have to find out about, and sadly there are places I've had to scratch off my list because they no longer exist: the million dollar horseshoe at Binions, the Sky Lounge at the top of Polo Towers, the tragically short-lived Taboo Cove at the Venetian. I could go on, and if you get a few drinks in me I will.
I'll sign off with a little video clip, because if there's one thing we love at the compound, it's fireworks: