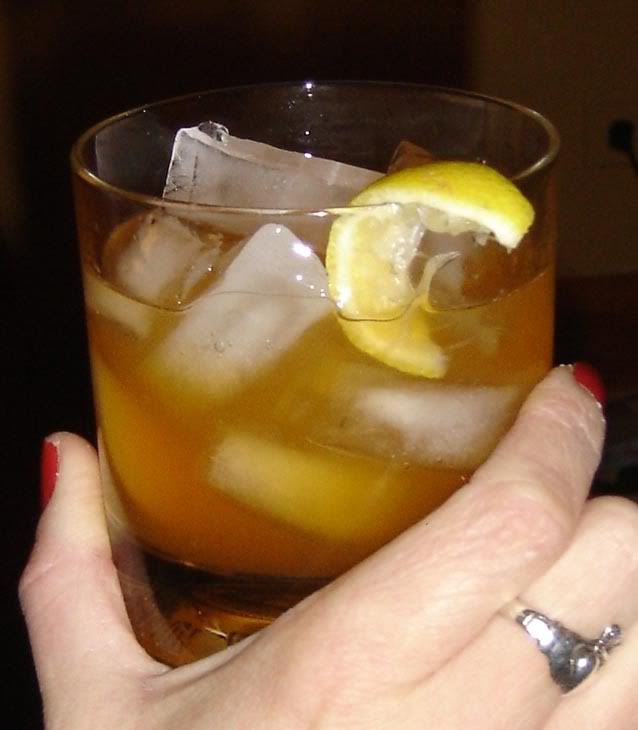 Little routines, such as the civilized habit of stopping to enjoy a cocktail. Ideally, for us, this is a Sunday afternoon ritual; our busy 21st century lives being what they are, though, sometimes we have to settle for Sunday evening.

Tonight's cocktail is a classic, one of the few cocktails not invented in the United States. It originated post-WWI in Paris, which makes it even swankier.

The Sidecar

Some recipes call for a 1:1:1 ratio, but we prefer the "English School" of Sidecar, a 2:1:1 ratio of cognac, Cointreau and lemon juice


1 shot of cognac (we use Meukow VS, a delightful inexpensive cognac, pronounced "moo-cow")
1/2 shot of Cointreau or triple sec (we use Caravella orangecello originale)

1/2 shot of lemon juice

Mix the ingredients in a cocktail shaker and pour into a cocktail glass full of ice. Serve with a lemon twist.
*Note--the picture above shows a rocks glass and not a delicate little cocktail glass. Sometimes presentation isn't as important as getting your drink on.

Now I must get back to the bar. MizBubs wore herself to a frazzle shopping for clothes for our youngest this afternoon, and she is requesting another Sidecar to revive her spirits.

Hope you all had a wonderful weekend. Good night, sleep tight, and don't let Mitt Romney bite.