I realized I committed a classic eats shoots and leaves error in my last post. For you chili rights activists, no, I did not shoot the chili. I did cook it, though, and we ate it. And lord was there a lot of it.

MizBubs, saint, knows that if I'm left alone I'll cook too much food. She knows that, no matter how well-prepared we are--for a camping trip, a party, a family dinner--there will inevitably come a moment when I turn to her, brow beginning to furrow, and ask "do you think we have enough food?" I've learned over the years to control the anxiety and to shop and plan accordingly so that we don't end up with 3 meals worth of extra food after having guests for dinner. It's a fragile state, though, and all it takes is one person to say "maybe we could use a little more..." to set me off in a frenzy of extra buying and cooking.

Which brings me back to the shooting range on Monday. Six or seven times a year my department uses an outdoor range in Wisconsin to train with our rifles. I've never had a bad time up there, and I've even managed to have a few perfect moments.

Another thing is that we eat well up there. Over the years we've had your standard burgers and brats, sure, and Italian beef, and your usual deli sides. I've been asked to cook two things: biscuits and gravy, and chili, and I've done them both a few times. The range master and senior firearms instructor both love country food, and I got the request to make chili this past Monday. They fueled my excess by insisting that I use more meat than usual, and they supplied the meat.

About an hour into the training I ducked back to the area behind the shooting booths and set up a little field kitchen for myself:


I have a few variations I do on a recipe I found years ago for something called "Buzzard's Breath Chili", an all-meat Texas chili recipe. Here's what the stuff I made Monday looked like while it was cooking: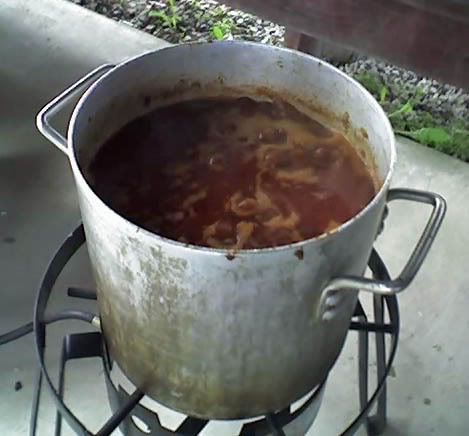 Shooting Range Chili

Ingredients:


8 pounds coarse-ground beef
5 pounds ground venison
2 pounds bacon, chopped
2 large sweet onions, chopped
1 green pepper, chopped
2 sweet red peppers, chopped
5 heaping tablespoons chopped garlic
8+ tablespoons ground Ancho chiles
5+ tablespoons ground red hot chiles
2 tablespoons cumin
1-2 tablespoons Mexican oregano
2 tablespoons ground red chipotle
(all spices from Penzey's)

32 oz of tomato sauce
1 bottle of beer
1 square of Baker's unsweetened chocolate


Fry bacon in a big pot until it just starts to get crispy

Add onion and peppers, and cook about 30 minutes until they start to wilt

Blend together the meat, chile and spices and add to the pot

Cook the meat until browned, stirring frequently and breaking up lumps

Add tomato sauce, beer, chocolate and salt to taste

Cook at least one hour, closer to two hours is better

Serve over rice
I used the burner from my turkey fryer, and if I'd known how much meat there was I would've used the turkey fryer pot instead of my regular chili pot. This recipe, by the way, is even better if you cook it over a campfire. We topped the chili with sour cream, shredded cheese and chopped onion.