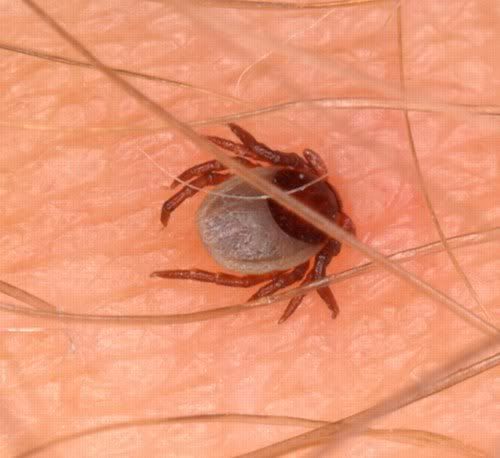 Ticks are disgusting.

Nothing ruins an outdoor adventure family fun day like the discovery of these disgusting little parasites on one or more family member.

Here in the midwest we mostly worry about catching Lyme Disease from these guys; out west it's Rocky Mountain Spotted Fever. But did you know ticks also transmit tularemia, tick-borne relapsing fever and, for those of you south of the Mason Dixon, something called Southern Tick-Associated Rash Illness?

The Centers for Disease Control offers a helpful page on ticks and tick-related diseases. It includes this handy chart on relative sizes and stages of development of common American ticks:



You might want to consult this chart, or the CDC pages I've provided, next time you decide to take a restorative stroll through the fields and meadows near

your

home. I'm just saying.

The eldest and I are setting out today on a quick run up to Wilton, Wisconsin, to meet some people from our church. We're going to camp overnight, cook a big pot of campfire chili, and then spend tomorrow canoeing down the Kickapoo river. Even though I have the cautionary words and advice of Grant Miller echoing in my head, I'm still looking forward to being out of touch with the rest of the world for a day or so.

Before any outdoor adventure I always treat our clothes with my favorite outdoor product, permethrin. Since finding out about this stuff, I have not found a single live tick on anyone in our family. It keeps off mosquitoes as well.

And

we no longer have to slather ourselves in DEET, which makes kissing MizBubs while in the middle of nowhere a lot tastier.

Starting Monday I get to cross another career goal off my list. I will be in school all week, being trained as a firearms instructor. This is the third or fourth time I've requested the training, and for some reason this time I didn't get blocked because of politics. This is shaping up as a perfect week: camping, canoeing, and non-stop shooting with a break on Wednesday for a trip to a tiki bar.

Good times.