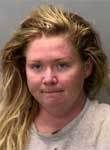 Meet Danielle Chastain of Fort Worth, Texas.

Reports do not state whether or not she was an Elvis fan. What the reports

do

state was that, when police arrived at her home and found her estranged husband outside, bruised and battered, they noted "the distinct "waffle-like pattern" of a meat tenderizer" in his injuries.

Ms. Chastain had beaten her husband with a meat tenderizer. She left the scene before the arrival of police and was arrested later.

This is not what Otis Redding had in mind when he suggested that we "try a little tenderness."

Feel free to insert your own hokey tenderizer jokes in the comments.