I've always really admired folks like Beth, Dale and Splotchy who do cool things with their blogs, letting us hear their favorite music (and even, sometimes, the dulcet tones of their voices) when we visit.

I'm going to try something like that this morning. I've loaded my Friday Random Ten into the little widget you see to the right, so listen away. Here's what's playing:


'Deed I Do—Blossom Dearie
Eat My Words—Marti Brom
Across the Universe—The Beatles
Excitable Boy—Warren Zevon
Die, All Right—The Hives
Tombstone Blues—Bob Dylan
Raunchy—Bill Justis
Goin' Back to the Bridge—Asie Payton
Man Ray—The Futureheads
Honky Tonkin—Hank Williams
_____________________


As an added weekend bonus I'm going to throw in a recipe. This makes an excellent side dish or savory brunch item. What I did was take the basic bread pudding recipe from the Gumbo Shop
in New Orleans, add an extra egg and some goat cheese, and substitute a couple of ingredients.
Savory Bread Pudding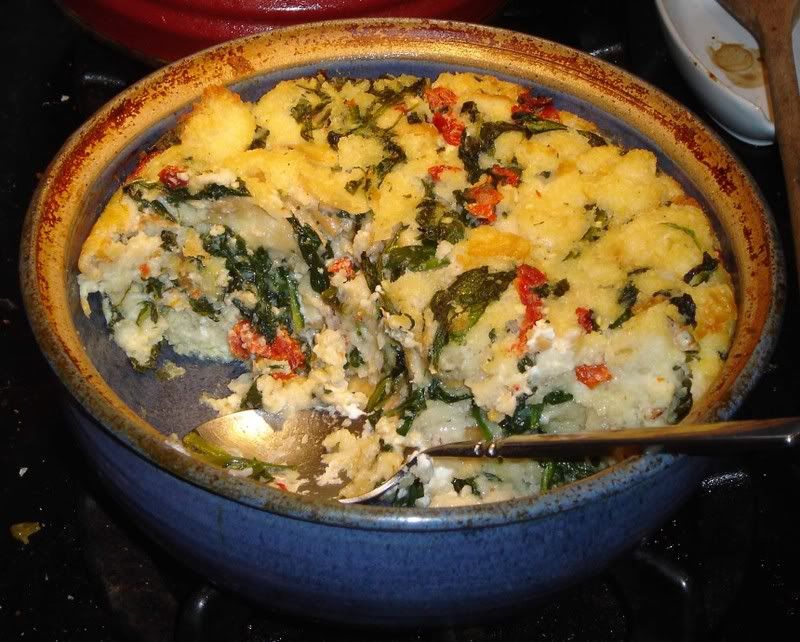 1/4 cup of butter
3 cups of milk
1 loaf of french bread, a day or two old, cut into 1 inch cubes
4 large eggs, beaten
1 pound fresh spinach
1 tablespoon minced garlic
salt and pepper to taste
1/2 cup of sun-dried tomatoes, chopped (Costco has them in a nice 18 oz bag)
4-6 oz of crumbled goat cheese


Saute the spinach with garlic, season with salt and pepper. Drain well, getting rid of as much excess liquid as possible


Combine the milk and butter, heat in a microwave until the butter melts

Pour milk/butter mixture over the bread crumbs in a large mixing bowl, let stand about 10 minutes so the bread soaks up plenty of milk


Stir in the sun-dried tomatoes

Stir in the spinach

Stir in the beaten eggs

Pour this mess into a greased baking dish or casserole and bake at 350 degrees for about 40 minutes.
I hope everyone enjoys the weekend. For me, this is like my Wednesday--I'm in my third day of my six-day work week. At least I can sense a delicious cocktail in my future this weekend...