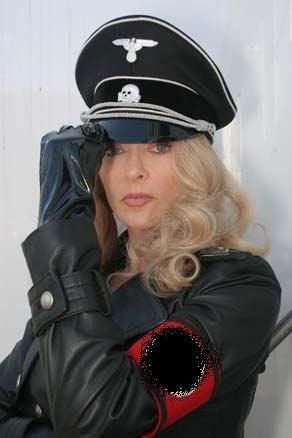 And if the people (and by that I mean one solitary Australian Googler) want
Sybil Danning
, then by God I aim to give em some
Sybil Danning
.
Lovers of exploitation movies rejoice: Sybil Danning is about to return to the big screen after an absence of 18 years! This picture is from the trailer to "Werewolf Women of the SS." WWOTSS is a trailer directed by Rob Zombie that's going to be shown halfway through the new Quentin Tarantino/Robert Rodriguez movie
Grindhouse
. Man, am I excited!
Grindhouse
is a tribute to all those sleazy exploitation wonders from the 70's and early 80's. Splatter films, slasher films, women-in-prison movies (hubba), torture films,
Giallo
,
Jess Franco
, cannibal movies...whew. Go to the
official

Grindhouse

website
and watch the trailer--all I can say is, any movie that features a hot amputee chick being outfitted with a prosthetic leg/machine gun is ok by me. You can see a nice collection of stills
here
at Bloody-Disgusting.
Hmmm...if Sybil Danning is back, maybe we'll see more of
Mary Woronov
.