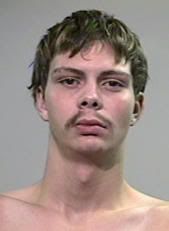 "We want people to like our officers, but not to lick them."
Freeport, Texas Police Chief Jeff Pynes, referring to an incident involving an arrestee named Ryan Halverson. Halverson, pictured above, was being booked for public intoxication when he leaned forward and licked Sgt. Jay Newton on the face. Halverson evidently found Sgt. Newton to be tasty, because he tried to lick him a second time before the sergeant stepped out of the way.

Chief Pynes went on to say that since the incident, Sgt. Newton has been getting "a lot of ribbing from fellow officers."

"He's been getting a lot of lollypops in his internal mail..."