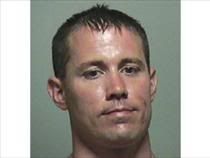 Meet Aaron Maurice of Appleton, Wisconsin.

A couple in Appleton was awakened in the early morning hours by the sound of someone whistling in their basement. Being prepared Americans, they grabbed a shotgun and investigated.

In the basement they found Mr. Maurice, wearing the man's hat and the woman's jacket, and covered in barbecue sauce. Maurice related that he was hiding from the government, and later described the barbecue sauce as "an urban disguise, if you will."

Maurice's attorney, Gene Bartman, noted that Maurice was motivated by "inexplicable reasons."